Economy Colour Non Woven Fabric
▲ 964 customer purchased this
We Are Leading Manufacturer In India
Get Your Best Price
Get the best bulk prices hassle-free.
| | | | |
| --- | --- | --- | --- |
| Brand | Favourite Fab | Material | PP |
| Gsm | 20-120 | Pattern | Diamond/Rice |
| Size | Up to 126″ | Weight | 50-60 |
| Color | ALL Except White | Quality | Economy Colour |
1. D cut Bags
2. W cut Bags
3. U cut Bags
Economy Quality Bag Fabric is cheap & best fabric option for nonwoven bags.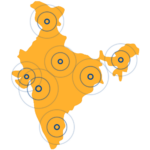 "Amazing product! The quality is outstanding and the customer service is top-notch. Highly recommended!" – Mukesh Bansal

"I love this company! The product arrived on time and exceeded my expectations. I'll definitely be a repeat customer." – Vikas Khanna
Customer Reviews On: Economy Colour Non Woven Fabric
PP spunbond fabric is a nonwoven fabric composed of polypropylene fibers. It finds usage in different sectors such as agriculture, medicine, packaging, and textiles. Agra, located in Uttar Pradesh, India, is famous for its rich history and culture. Agra has one company that specializes in nonwoven fabrics and produces PP spunbond fabric using a unique process which is Favourite Fab. 
The process involves extruding polypropylene fibers, which are then spun into a web-like structure. The web-like structure is then bonded together and pressurised, resulting in a durable and robust fabric. 
The applications of PP spunbond fabric in Agra are diverse. It is commonly used as a covering material for crops in the agriculture sector to protect against pests. In the medical industry, it is used to produce surgical gowns, drapes, and other disposable products. Additionally, PP spunbond fabric is utilized in the production of bags, such as shopping, tote, and garment bags. 
The production of PP spunbond fabric is vital to Agra's economy as it provides employment opportunities for many individuals and contributes to the growth of the textile industry in the region.
PP spunbond fabric, which is also referred to as polypropylene spun-bonded fabric, is a type of non-woven fabric that is produced by thermally bonding polypropylene fibers together. PP spunbonded nonwoven fabric is an artificial hydrocarbon polymer fabric that is known for its interesting features. 
Strong Fibres
Good Printing

Elasticity

Higher Strength

Softness

Resiliency

Flame Retardancy

Washability

Recyclability

True Color
Firstly, its weight is light which allows easy handling & transportation. Secondly, it is breathable, allowing air and water vapor to pass through, making it ideal for use in medical or hygiene products. Thirdly, despite its lightweight nature, PP spunbond fabric is strong and durable, making it suitable for various applications. Fourthly, it is softer on the skin and is a good feel to wear against the dermis, making it ideal for use in clothing and other textile applications. Fifthly, it is naturally hydrophobic and thus suits applications where moisture resistance is important, such as outdoor furniture covers or bags. 
Finally, PP spunbond fabric is made from non-toxic materials, making it safe for use in applications that come into contact with food, such as packaging or food storage containers. In conclusion, PP spunbond cloth is a versatile and reliable material with various applications across various industries.
The spunbond PP fabric is one of the most used fabrics in the nonwoven industry. The fabric has raised as the most prominent & promising fabric in the nonwoven industry. 
There are various locations & places in India, those are so much  
The nonwoven fabric is utilized to manufacture numerous products in the health care industry, including surgical aprons, covering, surgical masks, various medical components, lesion dressings, etc. The hygienic products have also the content of nonwoven, some products are feminine care napkins, sanitary towels, tampons, diapers, etc. 
If you want more information regarding the Non Woven Fabric Manufacturer In Delhi Ncr, you may go through our article section, which would give you a broad idea regarding the nonwoven.