▲ 767 People using this recently
₹ 200/kg
MOQ: 1000-2000kg
₹ 190/kg
More Then 3000 kg
We Are Leading Manufacturer In India
| | | | |
| --- | --- | --- | --- |
| Brand | Favourite Fab | Material | Viscose/Polyester |
| Gsm | 40 to 80 | Pattern | Smooth |
| Size | 120 to 3100 mm | Weight | 180-200 |
| Color | White | Quality | Fresh Quality |
1. Wet Wipes (Baby Wipes)
2. Towel & Wet and dry tissues
3. Personal & Beauty (cosmetic cotton)
4. Medical Dressing Material,
5. Medical Curtains,
6. Surgical Cover Cloth
Spunlace fabric is a nonwoven fabric generally made with viscose or polyester or both. The fabric is made in a hydroentangled process which requires water.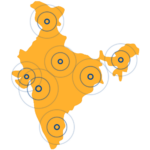 "Amazing product! The quality is outstanding and the customer service is top-notch. Highly recommended!" – Mukesh Bansal

"I love this company! The product arrived on time and exceeded my expectations. I'll definitely be a repeat customer." – Vikas Khanna
Customer Reviews On: Spunlace Fabric
What Is Spunlace Nonwoven? What is Spunlace Material Meaning?
The spunlaced fabric is an artificial nonwoven fabric that is made using the hydroentanglement process. The fabric is manufactured using the jest of water, with the stream of the water the pattern is given to the fabric. The general raw material to manufacture spunlaced fabric is viscose & polyester.
The roll size of PV spun lace ranges from 80 cm to 480 cm. You may visit our blog section instead of finding Spunlace Nonwoven Wikipedia on the internet.
Characteristics of Spunlace Nonwoven Fabrics 
The spun lace industry has determined certain uses of cotton or wood pulp nonwoven, due to being cheaper, there is a huge demand for polyester viscose nonwoven fabric.
You may find the following properties of spunlace nonwoven:-
Required Strenght

Fine Absorbency

Biodegradable Property

Free from Pilling

Easy Cleaning
Polyester gives following properties to spunlace nonwoven:-
Duarbiligy

Flexibility

Cheapness

Good Elasticity

Moulding Feature
Uses of Spunlace Non Woven Fabric.
The hygiene sector, cosmetics, etc. are major industries that are being benefitted. 
Spunlace nonwoven for facial wipes
Spunlace fabric for Baby wipes
Nail Polish Removing Wipes
Alcoholic Pads of Spunlace Fabric