The spunlace non woven fabric HS code is 56039200. This is an artificial non woven fabric which is made with viscose, polyester, cotton, wood pulp etc.
The spunlace fabric is a type of man-made fabric. It comes under the category of non woven. But it is not made up of polypropylene (PP), it is made with viscose & polyester. Sometimes wood pulp, cotton or pure viscose & pure polyester is used. The process of making spunlace fabric is hydroentanglement. Let us discuss all the important aspects of this blog.
The HS code of non woven fabric comes under section 11 of 21 sections of the HS code. After that, the chapter on non woven fabric is 56, which gives it the first two digits of its HS code i. E. 56.
Then the non woven fabric comes under 03 heading of 56 chapters, 03 makes its further two digits.
The last two digits of the HS code are decided as per its manufacturing "artificial" or "natural" or "both-mix" & its thickness, as shown in below table:-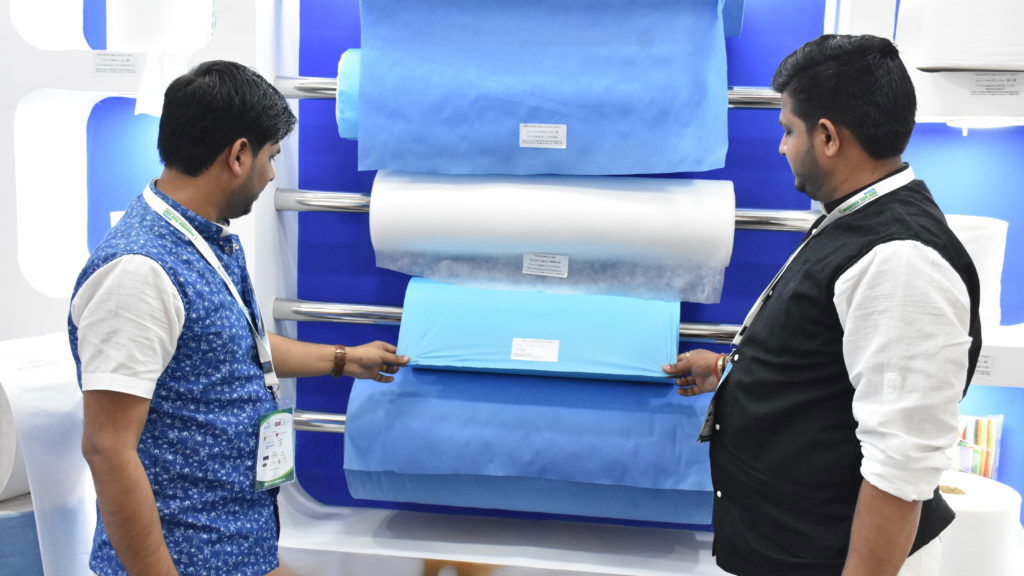 Get Free Sample Kit Of Our Fabric At Your Door Step
Online Order
Door Delivery
1-Click Quotation
| | |
| --- | --- |
| 5603.1 : Man Made Fibres | 5603.9 : Others |
| 5603.12: GSM <25 or = 25 | 5603.91: GSM <25 or = 25 |
| 5603.13: GSM >25 but <70 or = 70 | 5603.92: GSM >25 but <70 or = 70 |
| 5603.14: GSM >70 but <150 or = 150 | 5603.93: GSM >70 but <150 or = 150 |
| 5603.15: GSM >150 | 5603.94: GSM >150 |
Further, the Government of India gives more than two digits to the HS code & makes it as per the country tax system- GST. Thus the HSN code is eight digits & gives information about the material described as well as its tax in India.
The HSN code for non woven fabric is 56031200 in India. This is sold with a tax of 12 % GST & comes under subheading 12 of heading 5603 of chapter 56 of section 11 of the HS code established by the World Customs Organisation in 1988.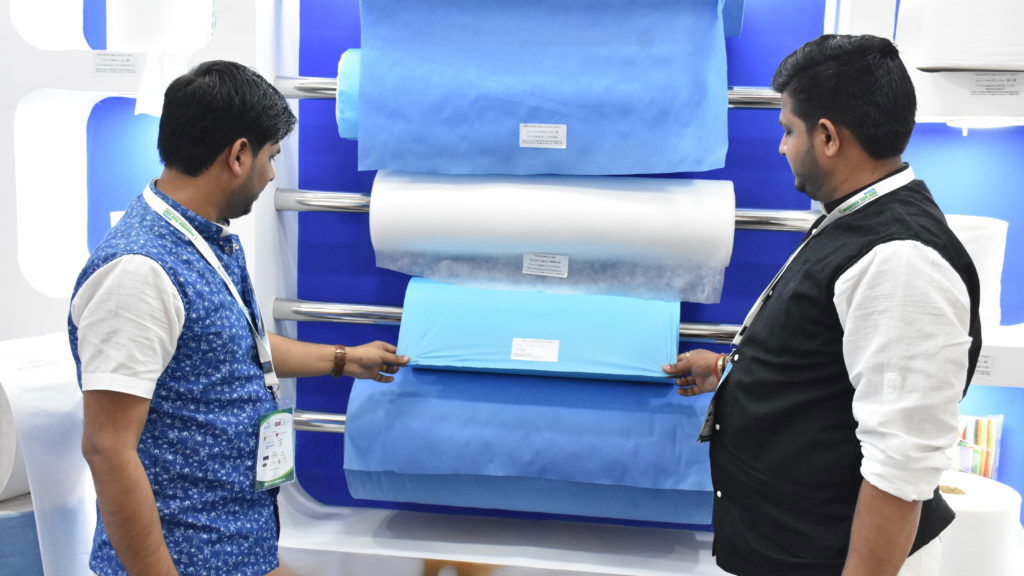 Get Free Sample Kit Of Our Fabric At Your Door Step
Online Order
Door Delivery
1-Click Quotation
The spunlace fabric is a critical, innovative material in the non woven fabric industry. This is the need of the market.
| | |
| --- | --- |
| GSM: | 30 to 60 |
| Material: | Viscose & Polyester |
| Usage/Application: | Medical, Hygiene Industry |
| Type of Bonding: | Hydro-entangle Process |
| Packaging: | Shrink & Raffia Packing |
| Colour: | WHITE |
| Spunlace Fabric for Vietnam | |
| | |
| Name | Spunlace Non Woven Fabric in Jordan |
| Composition | Viscose (Rayon) & Polyester |
| GSM | 30-100 |
| Slit Width | 3200 mm or as desired |
| Colour | White Or As Required |
| Pattern | Plain or Specific |
| Certificate | ISO,GMP,CE |
| MOQ (Minimum Order Quantity) | 1000kg |
| Diameter of Roll | Till 1200 mm |
| Embossing Method | Hydro-Embossing |
The features of spunlace non woven fabric are described below:-
The fabric texture is soft & skin-friendly
The absorbency can be increased or decreased
Polyester makes the spunlace fabric affordable.
Having Water absorbing properties.
Lightweight
The texture is the same as normal cloth.
Due to features the same as a soft cotton cloth, the spunlace fabric is used in replacement of cotton wipes or cloth in hygiene, cosmetics & daily life.
As wet wipes raw material
As baby wipes raw material
For makeup remover wipes
For Nail Polish remover wipes
For Salon towels
For Alcoholic pads for sanitising hands
For Kitchen wipes etc.
Spunlace Non Woven Fabric is a very demanded material in gulf countries because of its cheaper cost & special features.
As the HS code for spunlace non woven is 56039200, it comes under the non woven impregnated, laminated, covered etc. The spunlace fabric is not prepared with traditional weaving techniques.
We are getting inquiries from Saudi Arabia, USA, UAE, Russia, Nepal, Sri Lanka, Kuwait, Oman, Qatar, and Bahrain for spun lace fabric.
As inquiries given in the below list:-
Spunlace fabric in UAE
Wet wipes raw material in Qatar
Spunlace non woven fabric in Oman
Spunlace fabric in Kuwait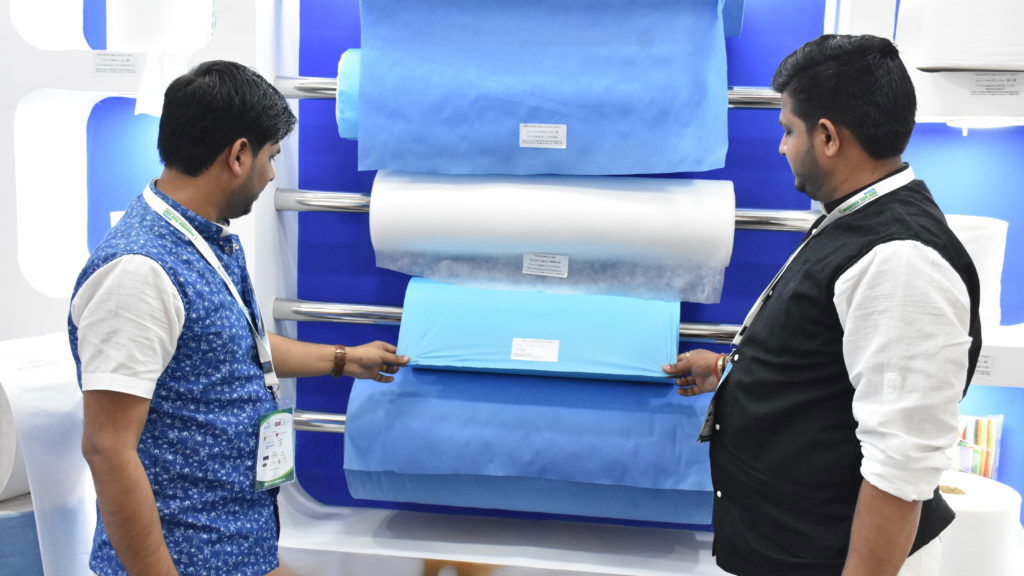 Get Free Sample Kit Of Our Fabric At Your Door Step
Online Order
Door Delivery
1-Click Quotation
There is a Harmonised System established by World Customs Organisation (WCO) in 1988. This made the understanding of goods very much easier in import & export because there are a lot of language discrepancies around the world.
The Hs Code Full Form is Harmonised System Code. In India, the HSN code is much more famous than the HS code. The HSN code is similar to the HS code till the first six digits. After that India added two more digits to classify the material as per tax.
The HSN Codes give the benefit to have the details of the goods with their description & it is also easier to estimate the GST.
Thus the spun lace nonwoven fabric HS code is 560392, made with artificial & natural materials both.
FAQs
The non woven or nonwovens, whether or not impregnated, coated, covered or laminated, has HS code starting from 5603.
The HS Code for nonwoven fabrics less than 25 gsm is 56031200.
The spunlace word derives from "spun" and "lace". The "spun" is the past participle of "spin" & "spin" means "to make a thread". The "lace" means "to tie something". Thus the word "spunlace" itself gives us an idea about its manufacturing. As per the meaning of the word the raw material of spunlace fabric either viscose, polyester or both are processed & its threads are formed which are pressed & laced, and arranged by water jets & thus a sheet of "spunlace fabric" is manufactured.