63" Fresh Non Woven Fabric
▲ 923 customer purchased this
We Are Leading Manufacturer In India
Get Your Best Price
Get the best bulk prices hassle-free.
| | | | |
| --- | --- | --- | --- |
| Brand | Favourite Fab | Material | PP |
| Gsm | 20-120 | Pattern | Diamond/Rice |
| Size | 63″ | Weight | 50-60 |
| Color | ALL | Quality | 63" Fresh |
1. D cut Bags
2. W cut Bags
3. U cut Bags
4. Box Bags
63″ Fresh Fabric is the bag fabric for strong nonwoven bags, a good option for bag manufacturers.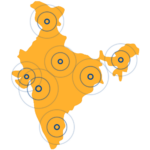 "Amazing product! The quality is outstanding and the customer service is top-notch. Highly recommended!" – Mukesh Bansal

"I love this company! The product arrived on time and exceeded my expectations. I'll definitely be a repeat customer." – Vikas Khanna
Customer Reviews On: 63" Fresh Non Woven Fabric
A dime a dozen, we believe in the idiom & keen to provide you with the complete price list of the nonwoven material. Looking at the price list is important, so you may be satisfied while selecting your desired material. 
The bag's nonwoven roll weight ranges from 40 to 80 kilograms. We have mentioned below the roll price list for your convenience-
Knowing the price per kilogram, give you the Non Woven Fabric Price Per Kg. The GST on nonwoven fabric is 12 %. The HS Code for nonwoven over 25 gsm is 560312 & HSN code is 56031200.
There are 5 to 6 qualities of spunbond fabric for bags, which are per the requirement of our various customers of the packaging nonwoven industry. The Fabric, which is involved in manufacturing bags, must have strength, durability, multicolor options, and good absorbency for ink.
Favourite Fab is one of the largest Non Woven Fabric Manufacturing Companies In India, having clients from 4 continents worldwide. We were the most reputed organization in Non Woven Tech Asia, the international exhibition. F
Being Non Woven Fabric Suppliers In India, Favourite Fab is globally recognized for its innovative & tailor-made fabric solutions, the organization manufactures more than 30+ kinds of nonwoven fabric, both locally and internationally, serving the requirement of diverse clients, including reputed manufacturers. 
Favourite Fab has several title recognition across India, from North India, we are India's most desired organization that provides rapid response in the industry.
Favourite Fab is a pioneer Non Woven Fabric Manufacturer In Agra, which is glad to be the one & only fastest-response giving Non Woven Fabric Manufacturer In Uttar Pradesh.
Our factory is based at Runakta Industrial Area, which is a central location & easy to reach. You may contact us to get fabric in Rajasthan, Delhi, Karnataka or Telangana. We are Non Woven Fabric Manufacturer In Rajashthan, Non Woven Bag Raw Material In Delhi, Non Woven Fabric Manufacturer In Karnataka, Non Woven Fabric Manufacturer In Telangana are some nouns that are easier to be noticed with the name of Favourite Fab.
Our Bag raw material ranges from 25 to 180 gsm, having colors beige, lemon yellow, red, orange, peacock green, ivory, black, white, etc. These colors run over our machine every 15 days in a sequence. The Non Woven Fabric Price Per Kg is 85 Rupees.
The Non Woven Fabric Roll Price List is available at our blog segments which informs you regarding 20 Gsm Non Woven Fabric Roll Price, 60 Gsm Non Woven Fabric Roll Price & 50 Gsm Non Woven Fabric Price. You may have your customize Non Woven Bag Raw Material List and the Non Woven Fabric Rate. You may inquire at our website about Non Woven Fabric Manufacturer In Erode.