▲ 963 customer purchased this
We Are Leading Manufacturer In India
Get Your Best Price
Get the best bulk prices hassle-free.
| | | | |
| --- | --- | --- | --- |
| Brand | Favourite Fab | Material | PP |
| Gsm | 60 | Pattern | Diamond/Rice |
| Size | Up to 126″ | Weight | 50-60 |
| Color | ALL | Quality | Prime Quality |
1. D cut Bags
2. W cut Bags
3. U cut Bags
4. Box Bags
60 gsm non woven fabric is one of the famous fabric which is utilised in manufacturing of bags.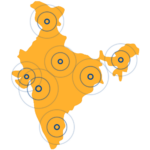 "Amazing product! The quality is outstanding and the customer service is top-notch. Highly recommended!" – Mukesh Bansal

"I love this company! The product arrived on time and exceeded my expectations. I'll definitely be a repeat customer." – Vikas Khanna
Customer Reviews On: 60 gsm nonwoven
If you are looking for a 60 gsm nonwoven fabric roll near Lucknow Uttar Pradesh, you are at the correct article on this website. 
The 60 GSM nonwoven fabric is basically a fabric that is made with spunbond technology & and is 60 gsm thicker.
The material comes with strong bonding and, a fine pattern which helps to make d type or w type of bags. 
This 60 gsm spunbond nonwoven cloth is also permissible by the governments of various countries as it is thicker & affects less the environment.
In India, as per the Plastic Waste Management Act 2021, the pp spunbond fabric less than 60 gsm is banned from making nonwoven fabric bags. 
Further let us talk about the features, availability, and production time of the fabric:-
The special features are its strong bonding capacity, and weight carrying capacity, which helps us to choose it for making the grocery bags.
Another special feature is the multic color options & and government permit, there is no issue selling bags made with 60 gsm fabric.
The 60 gsm fabric comes in a roll size range of up to 126 inches & and the color options are red, lemon yellow, ivory, beige, grey, black, white, peacock blue, parrot green, brown, yellow, etc.
The qualities in the 60 gsm range are Fresh, N Fresh, S Fresh, and ES Fresh, which are all new ranges of fabrics. The fabric comes with printable qualities as well.
The raw material for making the D type & and box type of bags, the 60 gram per square metere fabric is produced within 1 to 2 days when the quantity is 1 ton & of the same type.
Thus, from the above stanza essence is that Favourite Fab is the leading manufacturer and exporter of non woven fabric for bag making in all ranges. If someone needs to search for bag material, it should type the keywords like 'non woven fabric for bag making near me', Raw material for bag making near me', and 'best in quality and cheapest non woven fabric for bag making near me'.
What are the 3 main types of nonwoven fabric?
Spunbond fabric, spunlace fabric, and meltblown fabrics are the 3 main types of nonwoven fabric.
What is the GSM of non-woven fabric?
The GSM of non-woven fabric means gram per square meter.
What are 2 types of non woven fabrics?
The 2 types of nonwoven fabrics are spunbond & and spunlace fabric.
What is the thickness of nonwoven fabric?
The thickness of nonwoven fabric is defined by GSM. Here GSM is the acronym of Gram per Square Meter which is a measurement of thickness.