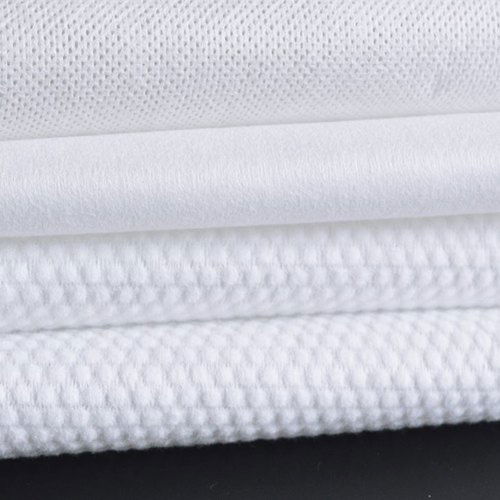 Spunlace

nonwoven
Spunlace nonwoven viscose&polyester Material is made from high-quality viscose and polyester fiber with advanced hydroentangle technology designed with the feature of excellent liquid absorbent, durable, tough grime clean capacity, and SGS proved food contact grade.
Our Material has the following properties
Material Features
Our Nonwoven Spunlace fabric is stretchable, and its original characteristics do not affect it.

Its Appearance & texture is somewhat like traditional textile, and it's different than other Non-Woven Material such as SMS, Face Mask Raw Material etc.

It has Higher Strength and Lower Fuzziness.

Better Air Permeability

Our Spunlace Nonwoven Fabric has Low Lint.
Why Choose Our Spunlace Non woven Fabric
Favourite Fab Are the Best Quality Spunlace Non Woven Fabric Rolls Manufacturer for For Wet Wipes,Baby Wipes,Adult Wipes
Product Details:
Spunlace Polyester Fiber specifications
| Brand | Favourite Fab |
| --- | --- |
| GSM | 20 to 100 gsm |
| Material | viscose & Polyester |
| Usage/Application | Wet Wipe Dry hair towel Facial wash towel |
| Features | Recyclable,Dust Resist,Anti Bacteria,Low Lint,High Absorbency,Soft andSkin-Friendly |
| Color | White,Blue |
| Pattern | Mesh |
| Certificate | ISO,GMP,FDA |
| MOQ | 1000kg |
| Packaging Size | ROLLS |
| Name | Spunlace |
| Composition | Poly Propylene |
| Weight | 60-70 kg |
| Width | 10-320cm |
Get Spunlace Nonwoven Free Sample Kit
Know more About
Polyester Spunlace Nonwoven​
Download Spunlace Report
Applications of Spunlace Non Woven Fabric (Spunlace Fabric Uses)
The Spunlace Non Woven Fabric is used in:-
Spunlace products & Spunlace material are described below:-
Towel & Wet and dry tissues
Personal & Beauty (cosmetic cotton)
Mask Covering Material.

Spunlacenon woven Fabric for the mask can be formed

with this.
Medical Dressing Material,
Medical Curtains,
Surgical Cover Cloth,
Surgical Clothing
Wound Dressing & Medical Gauze,
Instruments & Meters High-Grade Dishcloth
Disposable Material
Spunlace nonwoven blend
Spunlace Nonwoven fabric Available In all Blend
Blend 70% Polyester 30% Viscose 
Blend 80% Polyester 20%
Blend 50% Polyester 50% Viscose 
Spunlace is widely used in wet wipes, personal, Beauty, industrial, medical wipes etc.We are well known Nonwoven Fabric Manufacturer for Wet Wipes of Spunlace NonWoven. We can also avail Spunlacenon woven adhesive roll.
Spunlace non woven fabric price
Price Range From 180-270 Inr Per Kg 
Talk With Our
Sale Team
If you Have Any Requirements You Can Talk With Our Sale Team They Will Help You To Get Right Spunlace Fabric And Send You Free Sample 
Favourite Fab is starving to present our customers the valuable information regarding the Non Woven Industry. We have gone down to business for our customers. As we are following our motto, "Trust founded upon the strong pillars of Transparency". We are one of the Best spunlace manufacturers in India. Many Organizations recognized us as an A1 non woven spunlace fabric manufacturer in India. In other words, we can say we are most promising among Spunlace non woven fabric manufacturers in India.
This time, we are with an informative article on Spunlace Non Woven manufacturers in India. So, Hang tight to move towards the article dedicated to Spunlace Fabric Manufacturers in India or Abroad.
Spunlace procedure is a Manufacturing System of Non Wovens that is performed with water jets to entangle fibres & thus we got fabric integrity. Spunlace Method is also called Hydroentangling Method.
Spun-lace is in a single phrase is made up of different fibres, one type of Fabric of Non Woven category. We are expired with spunlace nonwoven Wikipedia. You will find here many glimpses of Spunlace Non Woven Manufacturing India.
We can describe this Method in some simple steps: –
Spunlace Fabric Manufacturing Process.
(How to make Spunlace Fabric.)
Favourite Fab is Spunlace Technology or Spunlace NonWoven Technology.
Fibres are organized by carding method.
Prepare a dry-laid net or web
Entangled staple fibres by a high pressurized liquid stream.
Send under Special in-line system
Dry & wind sheets in a roll
The above described Spunlace NonWoven Manufacturing Process is simple steps of spunlace non woven Production.
Spunlace Fabric is of various types based on the percentage of Viscose & Polyester. It can be made up of 100 % Polyester. Spunlace is called Polyester Spunlace. or from 20% Viscose / 80 % Polyester, or 30 % Viscose / 70 % Polyester or 50/ 50 % or can be formed according to the customers demand. We can avail Spunlace Non Woven Polyester Antistatic Material.
Our Company is gathering many features in his hat by progressing day by day. We, at this time, are moving towards serving our vision to serve every nation of the World.
We are always there to serve our domestic and foreign customers; if any of the foreign Customers are wondering here or there in search of the Best quality Non Woven Fabric, you are at the right place:-
Stop searching:-
Best quality Spunlace in Brazil Spunlacenon Woven fabric manufacturers in India Spunlace fabric in India
Best Quality Spunlace Fabric in the USA, US FDA certified Spunlace in the USA
We are being searched as ISO Certified Spunlace in Sri Lanka. We are being searched as Non Woven Fabric in Ecuador. This side Spunlace Fabric in Peru. We are with Spunlace for Baby wipes in Tunisia. This side Spunlace Non Woven in Jorden We have the Best Quality Spunlace Fabric in UAE. Find here Spunlace Non Woven in Vietnam. Easy to get Spunlace FDA certified in Oman. We have NITRA certified Spunlace, SITRA certified. We are being searched as Spunlacen Spunlace NonWoven Fabric Delhi.
Our Non Woven Fabric is of exportable quality, can be represented to the World. We, proudly, gathered this achievement. Our Spunlace Fabric is ISO 2015:9001 certified. We also got a certificate from the United States Food and Drug Research Association (US FDA). That was high time when we got certified from CE.
We have SITRA, NITRA certified Non Woven Fabric, SITRA certified Spunlace.
There are thousands of satisfied and happy customers all around the World. Many Spunlace Nonwoven fabric Suppliers purchase Material from us.
Modifiable
Appearance
High and Fast Absorbency of Moisture, Hydrophilicity
Soft and skin-friendly
The adhesive is not required for reinforcement.
Washing Resistance
Fine Fibres
We are Pioneer in the Non-Woven Fabric Production. We have been honoured with many achievements; we served the Nation & the World when needed more. Our Certificates- ISO, FDA, GMP, CE, SITRA and NITRA, speak more loudly than the words.
We have served numerous customers. Based on the feedback given by them, we are saying that they are glad & all good with quality & service of our organization.
We have experience of Each & Every situation of the market. We are in the stand with our skilful & work-devoted team. Our Sales Team, R&D team, Factory Unit, Managing Unit, Director Sir are devoted to serving the Customer with each & every prospect.
Come & Visit the Taj & Our Factory (Best Monument and Best Manufacturing Unit)
Now, Our Country is Safe from Covid 19. Vaccination is at its apex. You can return to our country. Our Government runs many offers for encouraging Tourists & Foreigners.
We gladly invite you to visit our Factory to see the difference between the Best and others. We suggest you visit the Love Monument- The Taj Mahal with a visit to our Factory. It would be an awesome tour package for you with a good Business Deal & Full of Enjoyment.
You can also see our Spunlace Non-Woven Production of Spunlace Nonwoven Fabric.
Our R & D Centre
Our Company has a devoted R&D Centre, which has two branches- one is for the finding & improving any shortcomings from the side of Factory. It focuses mainly on more improving the quality of the Fabric by its state of the art technology. Recommend the new type of features, methods, techniques for the Company.
On the other hand, the second branch of the R&D centre focuses only on Overall Management, such as any shortcomings in the processing of dispatched Material (to Customer), any shortcomings in the coordination of various departments, shortcomings in Coordination of Sales team with customers. And it gives important suggestions for improvement.
Our Sales Team members are trained on how to serve the Customer, Well Spoken Style, Customer Relationship, Business Etiquettes etc.
If you are interested in talking to our skill full sales team or you are eager to know Spunlace Fabric price, call on the given tab on this page, or you can directly go to the "Contact Us" page of our Website. Our team has the devotion to serve the Customer & the team has many years experience of in Business Etiquettes.
Our Presence on the Internet
We have our Website www.favouritehub.com. We are present on all important B2B sites such as Alibaba.com, Indiamart, Serai, GlobalSources.com etc.
This was a small informative article for our customers, next time we will present with another more informative & intrusting topic.
Meanwhile, Be connected with us, Be With Us. Give us a Chance to Serve you. Have a Nice Time.
We also Provide spunlace non woven adhesive roll 
spunlace nonwovens market Aprox 25 Bilion Usd
Read More About Spunlace Non woven:
Get Free Spunlace Sample Kit
Our Team Will Send You Free Sample Kit Of  Spunlace 
General query by Wet Wipes Manufacturer 
Whats is housekeeping spunlace materials.
Yes Spunlace is used as dry towels in HouseKeeping
What is spunlace material.
Spunlace material is 100% Natural or Synthetic Fibres.
Whast is spunlace raw material
Polyester , Polypropylene , Viscose ,Cotton and more .
What  is nonwoven fabric manufacturer for wet wipes spunlace nonwoven fabric
Is Spunlace 
viscose spunlace non woven fabric manufacturing companies in india
we do 70/30,80/20 and 100%
spunlace nonwoven manufacturers india
Favourite Fab is the Best one 
spunlace nonwoven manufacturers
We are Leading manufacturere
non woven spunlace fabric manufacturer in india
Our Plant in Agra
Know Everything About
Spunlace

hydroentangled fabrics
how is spunlace fabric made?
Spunlace fabric is made using the hydroentangling process. Water is used in making spunlace fabric.
what is spunlace fabric?
Spunlace is a type of non woven fabric which is made using hydroentangling process. Spunlace fabric is used in making wet wipes, salon towel etc.
what is spunlace non woven fabric ?
Spunlace non woven fabric is a very innovative fabric which contains viscose & polyester.
what is spunlace used for ?
Spunlace fabric uses are given below:- 1. Manufacturing of Disposable bed sheets 2. Used in manufacturing of Wet wipes & baby wipes. 3. In Making Surgical Gowns. 4. In making wash gloves 5. In making skin wipes, make up removal wipes.
what is spunlace fabric machine ?
Hydroentangling machine is used.
where is polyester spunlace made ?
polyester spunlace is made in Favourite fab.
spunlace meaning ?
Spunlace is fabric is used in making wet wipes, towels, makeup removal wipes etc.
is spunlace non wovwn polyester antistatic material?
Yes spunlace non wovwn polyester antistatic material.
What is nonwoven spunlace?
Non woven Spunlace Fabeic is blend of polyester and viscose by combination of loose fabric
What is spunlace fabric used for?
Spunlace fabric Use For Made Baby Wet Hygiene Wet wipes
how is spunlace made?
The hydroentangling process is the process of making spunlace fabric
what is spunlace nonwoven ?
Spunlace nonwoven is fabric which is made up of viscose & polyester. The water jets are used to make its bond stronger.
what is spunlace nonwoven ?
Spunlace nonwoven is fabric which is made up of viscose & polyester. The water jets are used to make its bond stronger.
what is spunlace material ?
Spunlace material is a non woven fabric which is used in making wet wipes, towels, baby wipes, makeup remover wipes etc.
what does spunlace mean ?
Spunlace means a fabric which is made by hydrentangle process.
what is polyester spunlace ?
Spunlace in which polyester is used.
who makes polyester spunlace ?
Favourite Fab makes polyester spunlace
spunlace fabric uses ?
Wet wipes, wash gloves, alcohol wet wipes, makeup wieps, saloon towels etc
What is spunlace made from?
Spunlace fabric is made from Using Synthetic Polyester.
What is the difference between spunbond and spunlace?
Click here To Know More http://favouritehub.com/spunlace-vs-spunbond/
Wet Wipes Material
The wet wipe material is known also with other names like baby wipe, disposable wipe, disinfecting wipe or wet towel. The wet wipe is a piece of cloth or other artificial material. Around 90 percent of the wet wipes are made with spunlace fabric in the market.
There is Wet Wipes Raw Material For Sale, Spunlace  at the website of Favourite Fab, Agra, India.
The spunlace fabric is made with viscose & polyester. In this Spunlace Nonwoven Manufacturing Process, It is made by a mechanical process bonding the fibres by water jet technology.
You may find our dedicated blog on this topic, where both the fabrics are compared along with their specifications.
Wet Wipe Material Spunlace Fabric Uses
The wet wipe spunlace Material is being used in baby care, kitchen, toilet, personal care, healthcare etc.
The baby wipes are used in baby care while changing nappies or diapers. The material which is in high demand for Spunlace Wipes is 30/70 PV spunlace fabric. This is also sometimes called baby wipe.
Toilet wipes
The wet wipes used for cleaning the toilet sheets & also used in body wiping in toilets. This wet wipe must be biodegradable & should pass the "flushable" test.
 Personal Care 
The spunlace wet wipes used to make "make up removal wipes" "makeup wipes".
Healthcare
Medical wet wipes are used to disinfect the medical devices. Examples:- alcohol wet wipes
 The price for spunlace non woven fabric ranges from 190 to 250 Rupees from Favourite Fab, Agra, India.
The price depends upon the blend & colour of the spunlace fabric. It is available in seven blends as per the uses & customer friendly width & diameter range of the rolls, you may find this in the specification table given in this blog.
Baby Wipes Material Specifications
| | |
| --- | --- |
| PARAMETER | SPECIFICATIONS |
| Wipes Material Blend | 30% Viscose & 70% Polyester |
| Roll Width | 120 to 3200 mm |
| Delivery Time | 2-5 days |
| Roll Length | 800 to 4800 mm |
| MOQ | 1000 KG |
| Gsm | 35-80 gsm |
| Pattern | Plain/Aperture/Embossed |
The Favourite Fab is the one of the Spunlace Nonwoven Manufacturers, who is the only company in North India, manufacturing such varieties.
 Wet wipes raw material which is Nonwoven Spunlace, is used in individual hygiene or cleaning of household. Primarily it was used in wiping the back of children while changing their diapers or nappies. Now it is being used for many purposes. This is also referred to as Non Woven Fabric For Wet Wipes.
Wet Wipes Raw Material
The Wipes Fabric is shown below in table with the specifications:-
| | | |
| --- | --- | --- |
| SN | Material Name | Uses & Specifications |
| 1 | Breathable Spunlace Nonwoven | This material has breathability. |
| 2 | 50%Viscose + 50% Polyester Spunlace Manufacturers In India | Baby wipes, wet wipes, alcoholic wipes with superb absorbency |
| 3 | 40%Viscose + 60% Polyester Spunlace Nonwoven Fabric | Baby wipes, wet wipes, alcoholic wipes with medium absorbency |
| 4 | 30%Viscose + 70% Polyester Spunlace Non-Woven Fabric | Baby wipes, wet wipes, alcoholic wipes with normal absorbency |
| 5 | 20%Viscose + 80% Polyester  Non Woven Spunlace Fabric | Economic wet wipes, or wiping products |
| 6 | 10%Viscose + 90% Polyester Spunlace Non Woven Fabric For Wet Wipes | More Economic wet wipes, or wiping products |
| 7 | 100% Polyester Industrial Spunlace Nonwoven | Industrial use |
FAQs
What Are Huggies Baby Wipes Made Of?
The huggies baby wipes are made of Spunlace fabric of 30% viscose & 70% polyester blend. These wipes are soft & have good water absorbency.
What Material Are Baby Wipes Made Of?
The baby wipes are made of spunlace fabric of blend 40% viscose & 60% polyester or 30% viscose & 70% polyester. You can contact Favourite Fab for more information.
Get Free Spunlace Sample Kit
Our Team Will Send You Free Sample Kit Of  Spunlace 
What is viscose non woven ?
Viscose non woven fabric is the Spunalce non woven fabric made with blend of Polyester and viscose , It's a combination of two eco friendly natural fibre and has great absorption capacity. As viscose fabrics are more soft in touch and feel, they are very comfortable to wear on the body.
we have all types of blends for viscose Used For wet wipes at very low prices, Kindly let us know the requirement you want to get viscose with us. We can give you a quotation for your quantity.  
What is spunlace nonwoven blend?
Spunlace Nonwoven fabric blend is the combination of polyester and viscose material In blended fabric.
Blend Fibers
Viscose, PET, Polyester,Cotton, Tencel, PP, and PLA fibers
Surface Structures We Have In Spunlace:
✓ Plain
✓ Embossed
✓Aperture
Our Plant Size
3200mm Is our Plant Size with a speed of 140 meters Per Minute
Why Choose Our Spunlace
Softness

High Drapability

High Absorbency

Best For wet wipes
Gsm Range
32-100 gsm In all Blends