There is very little & and ambiguous information over the internet regarding Sanitary Pads Raw Material. We came to know this thing & prepared a lot of information regarding the raw material.
The raw material which is used in sanitary napkins is important to know for sanitary napkins manufacturers.
Okay!
Here in this article, you will come to know the raw materials which are easier to avail from us, Favourite Fab, let us get started.
A sanitary napkin or pad is an important thing for women & and is needed of every woman, thus it is crucial to notice that the raw material must be cost effective.
The manufacturers of sanitary pads are always in hurdles for finding the cheap & and best material for pads.
Today, the sanitary pad raw material supplier, Favoruite Fab, would elaborate regarding the availability of the material at the best price.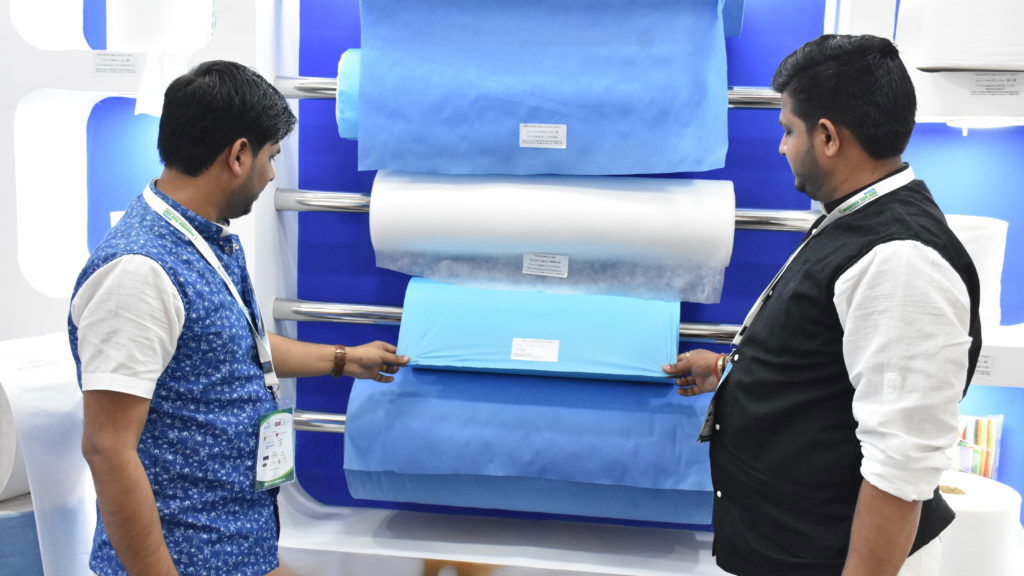 Get Free Sample Kit Of Our Fabric At Your Door Step
Online Order
Door Delivery
1-Click Quotation
There are three important materials that are helpful in making sanitary pads & and are included in any of the layers of sanitary napkins.
The Hydrophilic Non Woven Fabric
It is the fabric that is water absorbing and hence clear with the name "Hydrophilic". This fabric is made using polypropylene, a hydrocarbon polymer & and hydrophilic resin. This makes it water-loving. This is the crucial fabric that is used in making pads for liquid absorption.
The Hydrophobic Spunbond Fabric
Some manufacturers use pp spunbond fabric in pads. The pp spunbond fabric is by default hydrophobic.
PE breathable film
This film is made using polyethylene which has breathable properties. The film does not pass the water but passes the air, hence called breathable film. You may find form Favourite Fab 1000 Kg of Sanitary Napkin Raw Materials – Pe Poly Back Sheet (Pink, M. Blue or Printed).
This fabric may work as a fluid transferring layer. This is made with polyester & and viscose & and seams like cotton.
| | | |
| --- | --- | --- |
| Layer | Description | Material |
| Fluid Transferring Layer | Upper most layer with high absorbing properties. | Cotton layer or spunlace non-woven.or Hydrophilic nonwoven |
| Distribution Layer | Second layer. A.k.a acquisition layer. Distribution of the fluid throughout the pad. | Air bonded composite non-woven or thermally bonded non-woven. |
| Absorbent Layer | Third layer. Aim is to trap the fluid within itself. | Cellulosic pulp or SAP (Super Absorbing Polymer) |
| Barrier Sheet | Fourth layer. Fluid impervious sheet. Resticts leakage | PE breathable film. |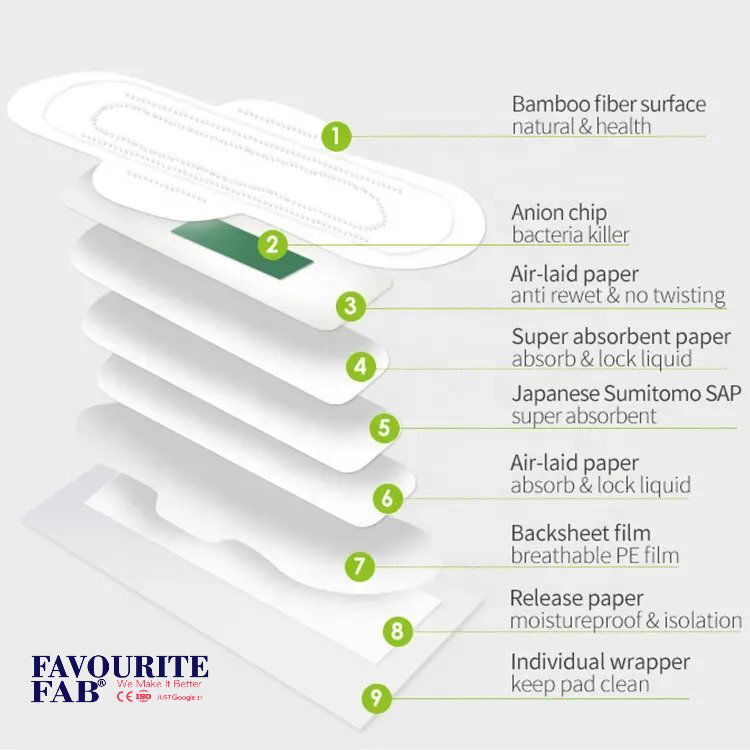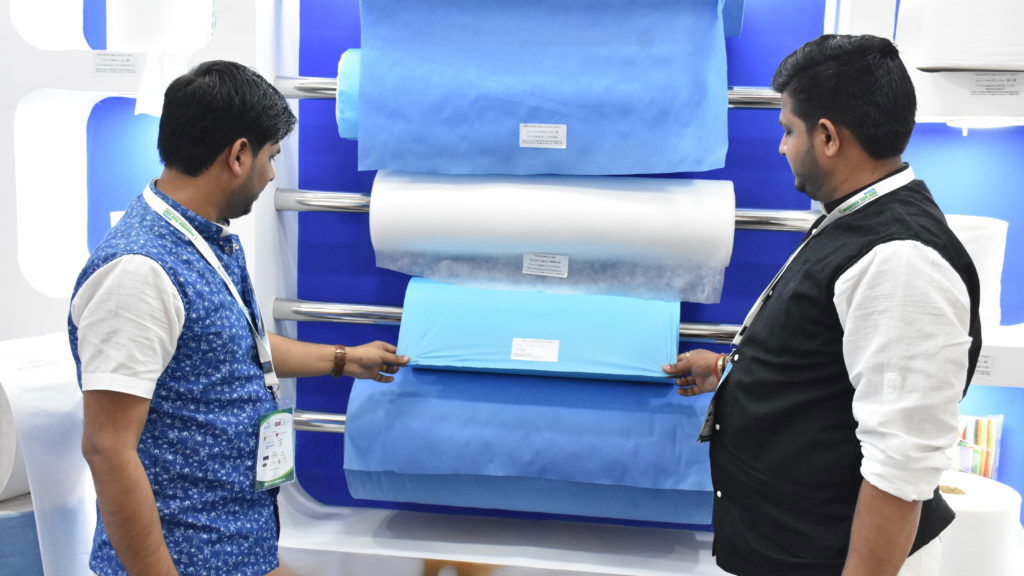 Get Free Sample Kit Of Our Fabric At Your Door Step
Online Order
Door Delivery
1-Click Quotation
| | |
| --- | --- |
| Get More Photos | |
| Get Best Quote | |
| White Roll Sanitary Napkin Raw Material, | |
| Non Woven Roll | |
| Rs 100 / Kg Get Latest Price | |
| | |
| Minimum Order Quantity: 1000 Kg | |
| | |
| Material | Polyethylene |
| Color | All Color |
| Width | 190 mm |
| GSM | 18/20 |
| Pattern | Plain |
| Use | For Making Saniatry Pad |
| Packaging Type | In Roll form |
Layers of Sanitary Pads
Fluid Transferring Layer
Distribution Layer
Absorbent Layer
Barrier Sheet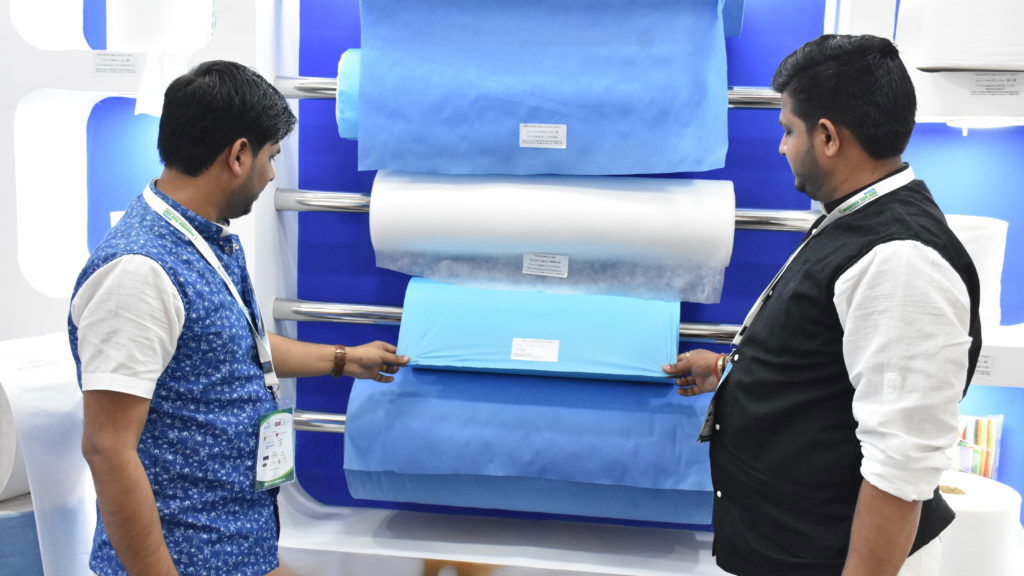 Get Free Sample Kit Of Our Fabric At Your Door Step
Online Order
Door Delivery
1-Click Quotation
Frequently Asked Questions
How To Start Your Own Sanitary Napkin Business?
You may purchase the machine of sanitary napkin machine or make it by your hands with a sealing & and sanitization machine.
For the raw material, you may contact a sanitary napkin raw material supplier.
Who are Sanitary Napkin Raw Material Suppliers In India?
Favourite Fab, which is a subsidiary of Favourite Fruit Preservation Pvt Ltd is the leading raw material supplier of sanitary pads & and napkins based in Runakata Industrial Area of UP, India.
What are Sanitary Napkin Raw Materials by Manufacturer?
The Sanitary Napkin Raw Material Price is different as the materials are 4-5 in nos. The price for good Biodegradable Sanitary Pads Raw Materials starts at 100 rupees per kilogram onwards, You may ask our team for the best price.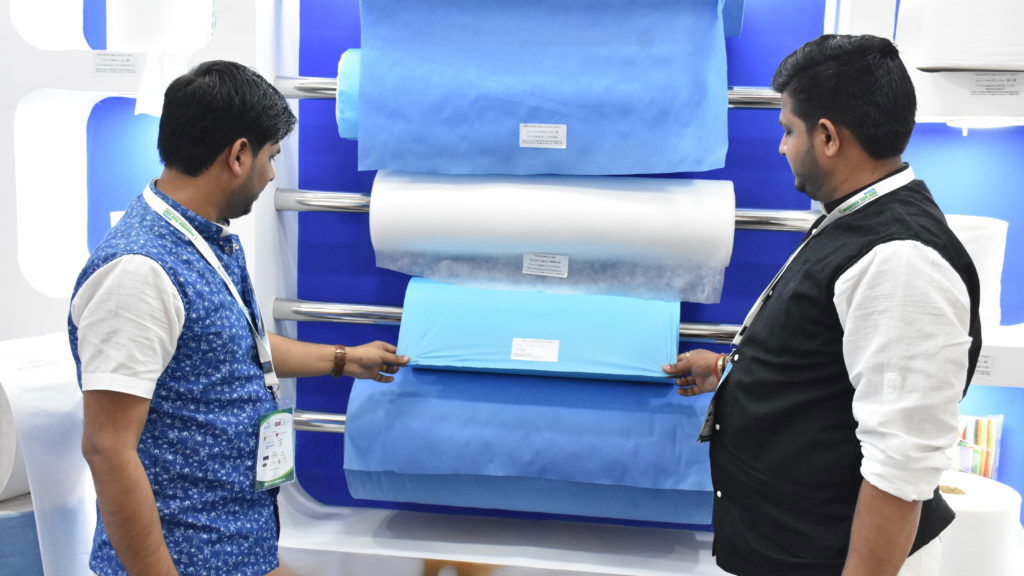 Get Free Sample Kit Of Our Fabric At Your Door Step
Online Order
Door Delivery
1-Click Quotation
Conclusion
I hope you get a good idea of different Natural And Sustainable Raw Materials For Sanitary Napkin, their price, availability & and description.
For getting the samples please inquire us with your requirement, which would be lookout by our sales executive & be processed.
Now, for further queries, feel free to mail us at sale@favouritehub.com or inquire about us on our website.