PP Spunbond Nonwoven Fabric are a form of Spunbond polypropylene fabric that is commonly used for the outer and inner surfaces of surgical and medical face masks. Favourite Hub is frequently used to create surgical masks, medical apparel, medical caps, round caps, various protective face masks, and household face masks due to its softness, environmental protection, and practicability. It's is also utilized as a black cloth for non-woven materials in the medical and health industries.
The market for PP Non-Woven Fabric has been developing at a moderate rate with considerable growth rates over the previous few years, and it is expected to increase significantly in the future. Because of increased product demand of PP melt blown filter in end-use sectors such as hygiene, medical, automotive, agriculture, and furnishing, the global Polypropylene (PP) Spunbond Non-Woven Fabric Market has seen substantial expansion. The market has also been directed by rapid technological breakthroughs and innovations in this arena, such as DESIGNING nonwoven materials with skincare and tenderness. The report on the global Polypropylene (PP) Spunbond Non-Woven Fabric Market provides a comprehensive industry analysis.
Favourite Fab, founded in 2011 in Agra, Uttar Pradesh, is India's largest pp nonwoven fabric manufacturer, exporter, and supplier. It is a verified and reputable vendor of listed products on Trade India. Favourite Fab has a reputable name in the market for high quality Polypropylene Nonwoven Fabric, Spun lace Nonwoven Fabrics, and so on. We have a pan-India presence and cater to a large client base across the country, focusing on a customer-centric strategy.
Our non-woven Spun-bond Polypropylene (PP) textiles feature superior air permeability, are chemical-free, and are heat bonded. It has AN excellent rip and bidirectional machine direction/cross direction tensile strength. Hydrophobic, hydrophilic, UV resistant and flame retardant fabrics are available.
Spunbond non woven fabric manufacturer
Favourite Fab Is a Leading Spunbond Non woven Fabric Manufacturer With a Plant Size Of 3.2 Meter Cl Line. We are At the highest production of spunbond non woven fabric manufacturer in India.
What Is Spunbond non woven fabric price.? Click Here To Know The Price
spunbond non woven fabric uses
There Is a Variety Of uses See Our Product List See The Spunbond non woven fabric Roll Size
Some of our PP Spunbond nonwoven product has the following essential characteristics:
The surface density of Spunbond varies between 10 and 150 g/m2.
Nonwovens made entirely of polypropylene Spunbond
The characteristic qualities are determined by the distribution of fibre in the surface fabric. In both the longitudinal and transverse directions, the ratio is 2:1.
Due to the high strength of continuous filaments, the fabric has a high final strength (filaments)
Spunbond fabric, Spunbond nonwoven- Net width: 1.6 meters; Weight ranges of 12 – 150 g / m2 (0.35 – 4.5 oz / yd2)
Nonwoven materials are made from 100% polypropylene (PP).
Spunbond nonwoven and Spunbond fabric products can be used to guard against UV rays and ultraviolet radiation in the outdoors.
Spun bond nonwoven and Spunbond fabric goods can be used as absorbent or repellent materials.
Spunbond nonwoven goods that are absorbent or repellent are commonly used in medical industrial items, such as disposable operating room covers, patient visitor textiles, and doctor's costumes.
Product Details:
| | |
| --- | --- |
| Brand | Favourite Fab |
| GSM | 20 to 180 |
| Material | Polypropylene (PP) |
| Usage/Application | Construction, Medical, Automobile, Agriculture |
| Type of Bonding | Mechanical |
| Features | Recyclable, Water Proof, Dust Resist |
| Packaging Size | Customized roll |
| Layer Pattern | SS |
| Color | White, Blue, and many others |
| Length | customized |
| Width | 63" Regular |
| Pattern | Plain |
| Do You Fulfill Sample Orders | Yes |
| Country of Origin | Made in India |
| pp non woven fabric price | Contact Us |
The applications and uses of pp microporous nonwoven fabric are numerous. The majority of clients have recently purchased PP Spunbond non-woven fabric in bulk for pp non woven fabric factories. If you're looking for a pp nonwoven fabric manufacturer, you've come to the right place. OEM, ODM, and custom nonwoven fabric services are available from our pp nonwoven Spunbond fabric manufacturer in a variety of colours and sizes. In addition, we will provide a reasonable and lower pp non woven fabric roll price offer to our global customers.
Is PP Spun bond Fabric environmentally friendly? Is it biodegradable?
Most of the time, it is determined by the type of nonwoven created from various sorts of fibres. The type of fibre used in a nonwoven fabric influences whether it is biodegradable or not.
Spun bond Polypropylene fabric is used in the majority of day-to-day applications. Contrary to popular belief, PP or polypropylene is not biodegradable; however, Spun bond can be made with biodegradable fibres; however, this is a niche market because biodegradable fibres are twice as expensive as Polypropylene.
Bags made of nonwoven material can be recycled. As a result, nonwoven bags can be considered environmentally friendly. Spunbond polypropylene fabrics are more environmentally friendly than plastic products since they do not hurt the environment. Even though some corporations are taking initiatives and taking steps ahead, Favourite Fab end up in recycling operations.
Market for Spunbond Nonwoven Polypropylene (PP) Fabrics, By Product
GSM 50 and Below
And GSM 50-150 and Above
GSM 150 and Above
The PP Spunbond Nonwoven Fabric laminated market is divided into three categories: GSM 50 and less, GSM 50-150, and GSM 150 and beyond. For the forecast period, the GSM 50 Below category is expected to have the most excellent quality. The increasing use of this product for numerous end-use purposes is one aspect that can contribute to the segment's rise. Find spunbond non woven fabric manufacturer in tamilnadu
Best Applications of Polypropylene Dewatering Non-Woven Fabric
Disposable medical supplies
Hygiene & Health
Packaging
Furniture and Mattresses
Agriculture
Filtration
Clothing
Construction
Know Everything About Spunbond Non woven Fabric.
Name Of Product: Polypropylene Spunbond nonwoven fabric
Brand: Favourite Fab Sku: 5603Fav
Product Description:
Favourite Fab is frequently used to create surgical masks, medical apparel, medical caps, round caps, various protective face masks, and household face masks due to its softness, environmental protection, and practicability. It is also utilized as a black cloth for non-woven materials in the medical and health industries.
| | |
| --- | --- |
| Size | 126-inch Shaft |
| Gsm | 10-100 |
| Use | Medical Packaging |
| Packing | Roll Form |
AggregateRating "ratingValue": "4.7","bestRating": "5","worstRating": "1" "ratingCount": "394"
Spunbond fabric is a very useful nonwoven fabric.
What Is Spunbond Fabric Used For?
Spunbond is used for making gowns, PPE kits, crop covers, non woven bags etc.
Spunbond Non Woven Fabric Characteristics are soft, hygienic, stronger, fine pattern, equal GSM, true colour etc.
Favourite Fab provides best quality spunbond fabric from 8 to 150 gsm & up-to 126 inches width roll size. Spunbond Non Woven Fabric Process includes melting of PP granules & making fibres & a spin (reel) of the same.
Strengthful Fibres
Good Filtration
Customisable Softness
Highly resistant to lower celsius
Fully resistant to chemicals, fungus, bacteria, rigids
Superior three layered fabric.
With detailed water-proofing
People Wants to Know
What Is Spunbond Polypropylene Fabric?
Spunlaid or spunbond fabrics are made up of spun polypropylene fibres which are spreaded over the calendar to make web-like structure & pressed.
What Is Spunbond Fabric Used For?
Spunbond fabric is used in manufacturing face masks, ppe kits, doctor caps, shoe covers, crop covers, sanitary pads, diapers, non woven bags etc.
Is Spunbond Polypropylene Waterproof?
Yes, generally all spunbond fabrics are waterproof, this property is customisable.
Is Spunbond Polypropylene Soft?
Yes, generally all spunbond fabrics are softer, this property is customisable.
Is Non Woven Fabric Durable?
Yes, The fibers of nonwoven fabric are made with polypropylene (PP), a hydrocarbon substance. The more muscular fibers of fabric make it suitable for manufacturing nonwoven bags.
Is Non Woven Fabric Safe?
Yes, non woven fabric is safer, free from toxicants, breathable, and used to produce face masks, gowns, bandages, etc. The fabric is made with polypropylene (PP); per the advocacy institute Environmental Working Group, the PP is classified as a low to moderate hazard.
स्पूनबॉन्ड नॉनवॉवन फैब्रिक क्या है?
स्पूनबांड या स्पॉनबॉन्ड फैब्रिक को सामान्यत:स्प्नबांड नॉनवोवेन फैब्रिक के नाम से जाना जाता है ! स्प्नबांड फैब्रिक्स एक विशिष्ट विधि "स्प्नबांड" द्वारा बनाये जाते है जिसमे पोलीप्रोपलीन के कणों को पिघलाकर रेशें बनाये जातें है और इन रेशों को ऊष्मा के द्वारा बांड किया जाता है, फिर पैटर्न को उभरा जाता है ! सर्वोत्तम गुणों वाला स्प्नबांड खरीदने के लिए आप फ़ेवरिट फैब से संपर्क करें.
Is Non Woven Fabric Biodegradable?
Yes, some nonwoven fabrics are manufactured using biodegradable materials like cotton and viscose, making them biodegradable. For example, 100% viscose & cotton spunlaced non woven fabric is biodegradable.
The non woven fabric is a man-made fabric manufactured with short-long fibres bonded together by chemical, thermal, solvent or mechanical forces, Etc.
In short, we can call 'nonwoven' such fabrics, which are neither knitted nor weaved. Thus nonwovens cover a wide range of fabrics.
Spunbond fabric, spun lace fabric, needle punch, fusible interlining fabric, etc., are some examples of nonwoven fabric.
At Favourite Fab, you may get two types of fabric:-
Superior quality Pp Spun Bond Non Woven Fabric
Export Quality Spunlace Non Woven Fabric
Spun laid fabric, generally known as spunbond fabric or Spunbond nonwovens, is manufactured in a single continual process. The polypropylene fibers are spun and directly scattered by deflectors to form a net. This process can also be done with the help of air streams. This process swiftly makes an affordable fabric.
Usually, the entangled filaments or fibers of spunbond fabric are usually produced as a net or sheet bonded together by thermal or chemical bonding.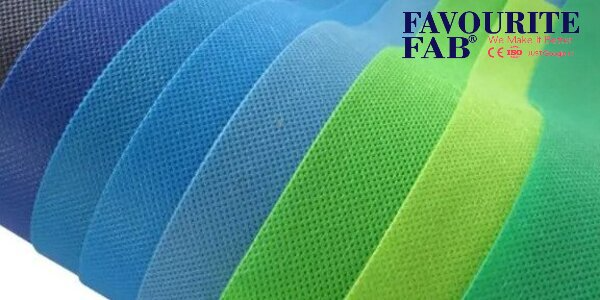 Thus Spunbond Non Woven Fabric Meaning is a such fabric whose fibers are "spun" & then "bonded" this process forms a more robust "Spunbond Non Woven Polypropylene Fabric Material" It is also called "Spun Bonded Non Woven Fabric"
PP Spunbond is made of polypropylene or polypropene, also abbreviated as PP. The PP is a thermoplastic polymer with the chemical formula (C3H6) widely used in various industries.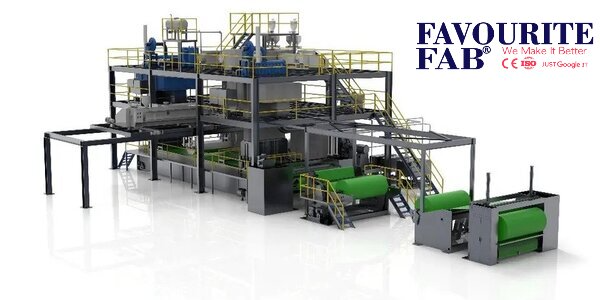 Pouring PP Granules or chips
Building of Filments by spinning & stretching the melted chips
Separating & spreading fiber bundles of filaments
Laying Down the filaments to form a web
Binding the filaments as a sheet by thermal bonding & embossing.
Favourite Fab manufactures global-level fabric with CL Pp Spunbond Non Woven Fabric Machine.
Favourite Fab possesses two production lines:-
A line of 1.6 meters SS Spun Bond Non Woven Fabric
A line of 3.2 meters SSS Spun Bonded Fabric with hydrophilic treatments.
Spunbond fabric is used in multiple applications like face masks, PPE kits, coveralls, diapers, sanitary pads, filtration, carry bags, interlining or backing, etc. Pp Spunbond Laminated is helpful in manufacturing gowns, coveralls, packaging material etc.
The following are the characteristics of the spunbond fabric which make it suitable to be used in various fields:-
Strong filaments
Multicolors
Customizable quality
Superior filtration
Bondation with hydrophilic, anti-static filler agents.
Good breathability
Recyclability
100 Pp Spunbond Non-Woven Fabric Bags Making
The feature of "strong filaments" & "multicolor" make Spun Bond Non Woven Fabric suitable for manufacturing Spunbond Non Woven Fabric Bags.
Currently, the inquiry of multiple colors of bag fabric is being observed in the market & India Pp Spunbond Non Woven Fabric Grey is one of them; Favourite Fab runs various colors over its machine every week; some of the examples of our colors are:-
R. Blue 🔵, Red ♥️, P.Green🔰, L.Yellow 🟡, Ivory◽️, Black ⚫️
You may also inquire about Pp Spunbond Non Woven Fabric Grey & we shall provide you with the best price for Grey non woven.
The World Customs Organisation, headquartered in Brussels, Belgium, determines the Harmonized System or HS code.
The chapter determines the Initial two numbers of Spunbond Non Woven Fabric Hs Code; further two numbers indicate the heading & the last two numbers are decided as per the manufacturing, either unnatural, natural, or both & GSM of the fabric.
Thus Hs Code For Spunbond Non Woven Fabric can be concluded as follows:-
| | |
| --- | --- |
| Hs Code Of Spunbond Non Woven Fabric | HS Code of Spunlace Fabric & Others |
| 5603.1: Artificial Fibres | 5603.9: Others |
| 5603.12: GSM<25 or=25 | 5603.91: GSM <25 or=25 |
| 5603.13: GSM>25 but<70 or= 70 | 5603.92: GSM>25 but<70 or= 70 |
| 5603.14: GSM>70 but <150 or= 150 | 5603.93: GSM>70 but <150 or= 150 |
| 5603.15: GSM>150 | 5603.94: GSM>150 |
Harmonized System of Nomenclature code (HSN code) is generally used in India. This code also lets us know the material's GST rate and import-export information.
The Spunbond Non Woven Fabric Gst Hsn Code is 56031200 with 12% GST.
The price for Nonwoven Spun-Bonded Polypropylene Starts from 85 Rupees; you may inquire here to know your best price. We may manufacture the customized quality as per your requirement.
Our price for foreign clients starts from 1.1 USD Per Kg FOB Mundra Port. We accept TT, TP, PayPal, and LC. We may deal in incoterms of FOB & CNF.
It is important to check and compare the data sheet to find out whether the fabric you purchase is technically eligible or not.
At Favourite Fab, various testing levels are performed in-house and by reputed testing agencies.
You may ask for Technical Data For Spunbond Non Woven Fabric, breathable fabric, SMMS fabric, and SSMMS fabric tested by the Northern Textile Research Associaton (NITRA) headquartered in Ghaziabad, Uttar Pradesh, India.
You may ask us for Non Woven Spunbond Fabric Msds Pdf as well.
| | | |
| --- | --- | --- |
| PARAMETERS | RESULTS | SPECIFICATION |
| Fabric Weight | 50 (±4°/o) | Gm /sq. meter |
| Tensile Strength MD | 48.5 | N/5cms |
| Tensile Strength CD | 27.4 | N/Scms |
| Roll Length | 160 | CM |
| CONTENT | 100% POLYPROPYLENE | PP |
| Tensile Strength MD | 48.5 | N/5cms |
| PROCESS | SPUNBOND | NON WOVEN FABRIC |
Spunbond Nonwoven Market Size
As per Markets and Markets website The spunbond nonwovens need is predicted to touch USD 23.8 billion by 2025, at a growth rate of 5.0%.
CAGR: 5.0%.
Material Type: Spunbond Nonwovens
Forecast Year: 2025
Report By: Markets and Markets
The Spunbond Nonwoven Market Share in India is necessary to determine the future of nonwoven growth in India.
The research & forecasted data are determined by a board Spunbond Nonwoven Market Analysis.
The share of technical textiles is 12% in India & globally; it is 24%.
India manufactures more than 50% of the spun-bond nonwoven in nonwovens & after that, the needle punches nonwoven.
No, The pp spunbond non woven fabric is not biodegradable because its raw material is polypropylene (PP) which is not biodegradable.
The spunbond, spun bond, or spun laid is a fabric made using spunbond technology. The spunbond process includes melting, filamentation, bonding & embossing polypropylene.
Another side, non woven fabric is a broad group containing all the fabrics that are being prepared without weaving or knitting as precise with the name "Non Woven."
Examples are spunlace, spunbond, melt-blown, needle punch, wet bonded, stitch bonded nonwoven, etc.
In short, you can say that "Non Woven Fabric" is the parent & "Spunbond Non Woven Fabric" is his one child.
I hope you got the Difference Between Spunbond And Non Woven Fabric; you may mail me more inquiries & questions at sale@favouritehub.com.
Spunbond Vs Meltblown
The critical difference between the spun-bonded process & melt-blowing is in forming the die.
The hot air converges with the fiber in the melt-blowing process because it comes from the die, and in the spunbond process, the fiber crosses the hot flow.
We are the leading Pp Non Woven Fabric Manufacturer in the market who is determined to provide you the global quality.
The various blogs are based on regions & networks of customers across India.