Check out our Diapers raw material
Nonwoven fabric is a matter of discussion for Non Woven Lovers. Nonwoven fabrics are such fabric which is made up of Polypropylene. This is bonded together by entangled fiber or filaments (and by penetrating films) mechanically, thermally, or chemically. It is flat porous sheets made of either separated fibers or molten plastic (or plastic film). Nonwoven fabrics provide specific roles such as
Absorbency
Liquid repellence
Resilience
Stretchability
Softness
Flame Retardancy
Washability
Cushioning
Thermal Insulation
Acoustic Insulation
Filtration
Use as a bacterial barrier and sterility
PPE manufacturers in India say, "A fabric with properties like these is often combined to create materials suited for specific jobs. Achieving a good balance between product use-life and cost. Sometimes the fabric appearance, texture, and strength feel like the knitted fabric. But this fabric can be as bulky as the thick puddings."
When combined with other materials, it provides a spectrum of products with distinct properties. Can be used alone or as components of apparel, home furnishings, health care, engineering, industrial, and consumer goods.
Have you ever thought, how can a diaper absorb all the liquid? It's because of the combination of superabsorbent layers of polymers. Hydrophilic Nonwoven Fabric is a suitable fit in baby diaper material.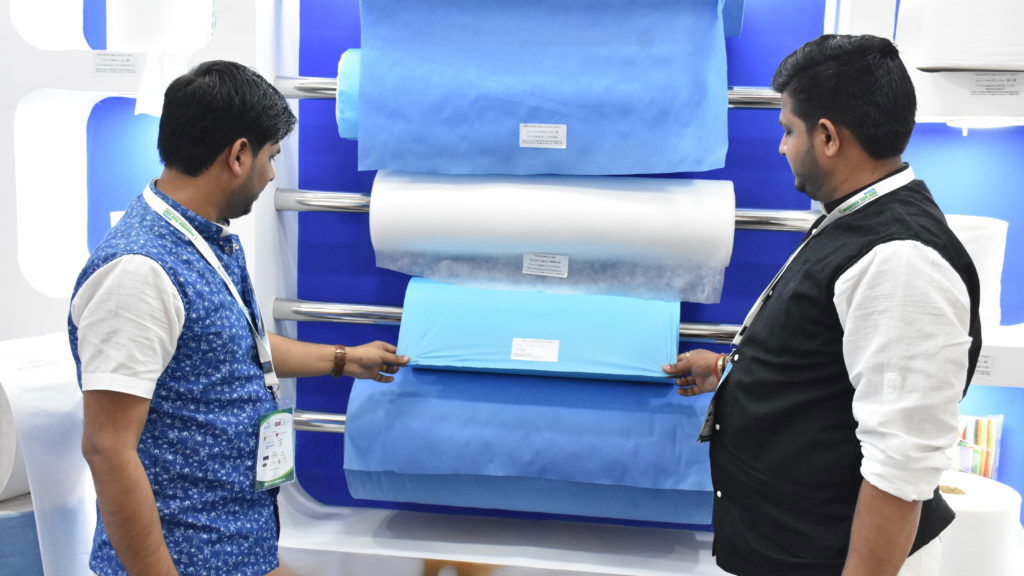 Get Free Sample Kit Of Our Fabric At Your Door Step
Online Order
Door Delivery
1-Click Quotation
When it comes to the diaper raw material suppliers in India, only one name surfaces Favourite Fab. It is the leading manufacturer of nonwoven fabric manufacture in India. Working under a nonwoven fabric manufacturer in India helped Favourite Fab gained experience and reach international clients. Favourite Fab has become the best fabric manufacturers in India and nowmaking products out of nonwoven fabric for various other uses in different industries. Our Top Selling Products are:-
S SPUNBOND
SS SPUNBOND
SMS NONWOVEN
SMMS NONWOVEN
SSMS NONWOVEN
LAMINATED NONWOVEN
TRILAMINATE
BREATHABLE
PE BREATHABLE FILMS
PE NON – BREATHABLE FILMS
SPUNLACE NONWOVEN
HYDROPHILIC
MELT BLOWN FABRIC
HOT AIR COTTON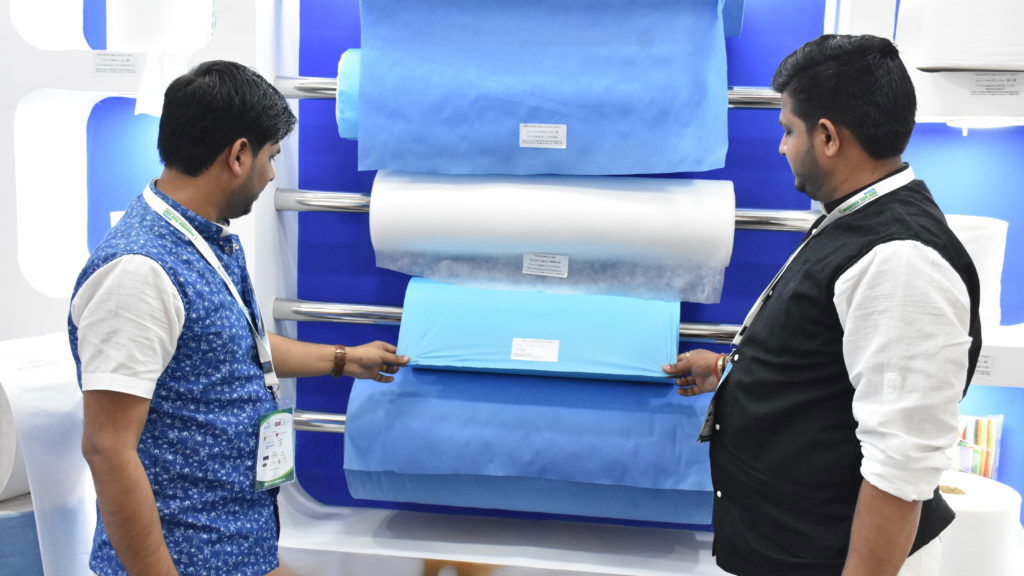 Get Free Sample Kit Of Our Fabric At Your Door Step
Online Order
Door Delivery
1-Click Quotation
What materials are used to make disposable diapers?
Polypropylene nonwoven is the most popular synthetic fiber used as a raw material for disposable diapers. Favourite Fab manufacture both hydrophilic and hydrophobic nonwoven fabrics for use in diapers. It supplies diaper raw material to the companies in India. For the Top Sheet of the Diapers, Hydrophilic Spun Bond Nonwoven Fabrics are widely used. The back Sheet of the diaper is made of Hydrophobic Spun Bond Nonwoven Fabrics. It produces nonwoven fabrics ranging in weight from 8 to 15 grams per square meter, used in diaper-making raw materials.
For the production of hydrophilic and hydrophobic nonwoven fabric, Favourite Fab installed a particular in-house coating plant for better quality control.  That nonwoven fabrics manufacturer in India is the leading choice of USA- based companies working for child and feminine hygiene. With the advancement of medical technology, doctors and state-of-the-art hospitals increasingly turn to nonwoven fabrics. Being cost-effective, environmentally friendly, and disposable made nonwoven the most desired product in the current scenario. The spun bonding process gives good tensile strength, and abrasion resistance is used to make most nonwoven fabric.
PRODUCT SPECIFICATIONS
| | |
| --- | --- |
| GSM Range |  8 to 15 GSM |
| Width of Fabric |  2000 mtr or as Per Order |
| Length of Roll |  All sizes available |
| Colour of Fabric |  White,  Blue or as Demanded |
| Available in |  Hydrophilic, Hydrophobic, Microporous, Breathable, Laminated |
| Used For | Raw Materials – for sanitary napkins and diapers Baby and Adult diaper and Sanitary Napkins |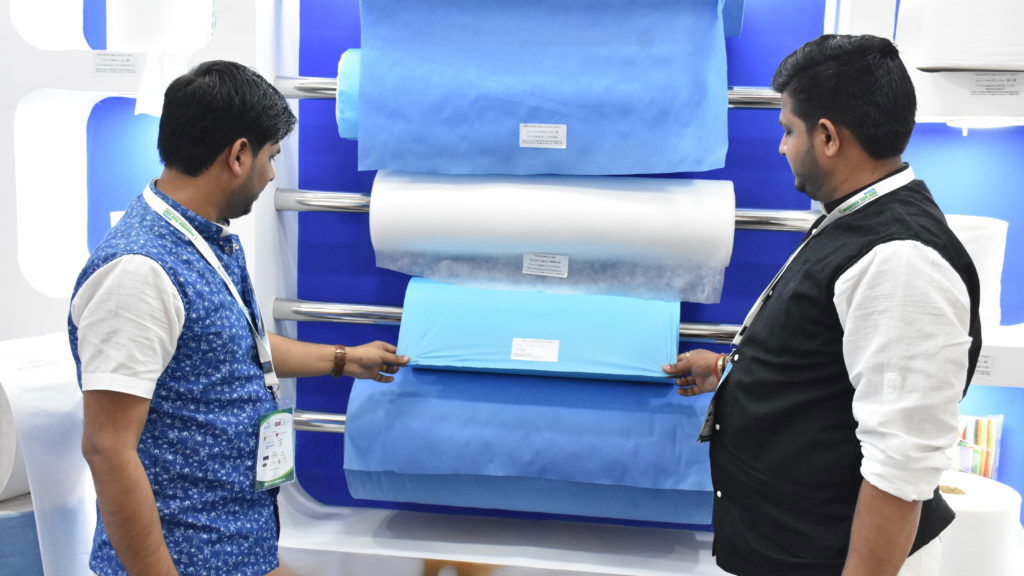 Get Free Sample Kit Of Our Fabric At Your Door Step
Online Order
Door Delivery
1-Click Quotation
FEATURES | NONWOVEN FABRIC
When babies start crawling or moving around, the best diapers are those that enable them to move about freely. Diapers should ideally be stretchy, easy to put on and take off, allow babies to move deliberately. According to nonwoven manufacturers in the USA, "earlier, diapers were made of elastic string or stretchable film. Some were too uncomfortable, making it complicated to put on diapers. Others were inadequately breathable, exposing babies to rashes. It was all far from perfect, with so many issues."
Favourite Hub, diaper raw material suppliers in India has the answer to these problems. That has one of a kind Sanitary Napkins Raw Material Manufacturing unit. Nonwovens made of hydrophobic polypropylene are impermeable to liquids and are used as leak guards in the crotch region. This fabric is used to keep leaks out of the diaper's leg cuff pocket. The liquid-permeable top layer that comes into contact with the baby's skin is made of hydrophilic polypropylene nonwovens. The urine will pass through this fabric section and enter the absorbent part.
Some materials are available at Favourite Fab and can be used as absorbent materials.
You may print this blog to get the Raw Material For Diaper Manufacturing Pdf, just click Ctrl+P to print the current page & you may save it as a portable document format.
Many manufacturers of diapers are making diapers with various methods. The most common methods, are being used to make diapers, are given as follows, which can be availed from Favourite Fab. 
The above are the most common materials which can be availed with us.
FAQs | NON- WOVEN FABRIC
➢     What chemical processes are used to make disposable diapers?
Other raw material manufacturers in India bleach the disposable diapers white with chlorine. Resulting in a byproduct called dioxins that leach into the environment.

Tributyl-tin (TBT)
Volatile organic compounds (VOCs)
But, nonwoven fabric is a harmless process making sanitary pads & diaper raw materials fabric safe for babies and females to use.
Favourite Fab, leading nonwoven manufacturers in the USA says, "Our goods comply with several requirements and come with various certificates and reports, including ISO, CE, GMP, FDA etc. Based on advanced technology and excellent management, we can manufacture and build according to customer requirements and specifications."
➢     Cost of nonwoven fabric products?
Diaper production cost varies depending upon the company.  The machines are incredibly expensive because they are so complicated yet extremely productive.

PPE kit prices in India may vary from Rs. 600 to Rs. 2000 apiece, depending upon the quality of the raw material.
➢   Which fabric is suitable for manufacturing of diapers?
For manufacturing diapers, non-woven fabric is a common choice due to its excellent properties for absorbency, comfort, and ease of manufacturing. Non-woven fabrics used in diapers are typically made from synthetic fibers like polypropylene or polyethylene. These materials are suitable for their softness, moisture-wicking capabilities, and the ability to rapidly absorb and distribute moisture, which is essential for diaper functionality.
Breathable non-woven fabrics can be particularly advantageous for diapers, as they allow for better air circulation, reducing the risk of skin irritation and rashes. Manufacturers like you who produce breathable non-woven fabrics can play a crucial role in creating more comfortable and hygienic diaper products.
So, breathable non-woven fabrics like the ones you produce can be an excellent choice for diaper manufacturing, especially for the inner layers that come into contact with the skin and are responsible for moisture management and comfort. However, the specific type and characteristics of the non-woven fabric will depend on the design and performance goals of the diapers you are producing.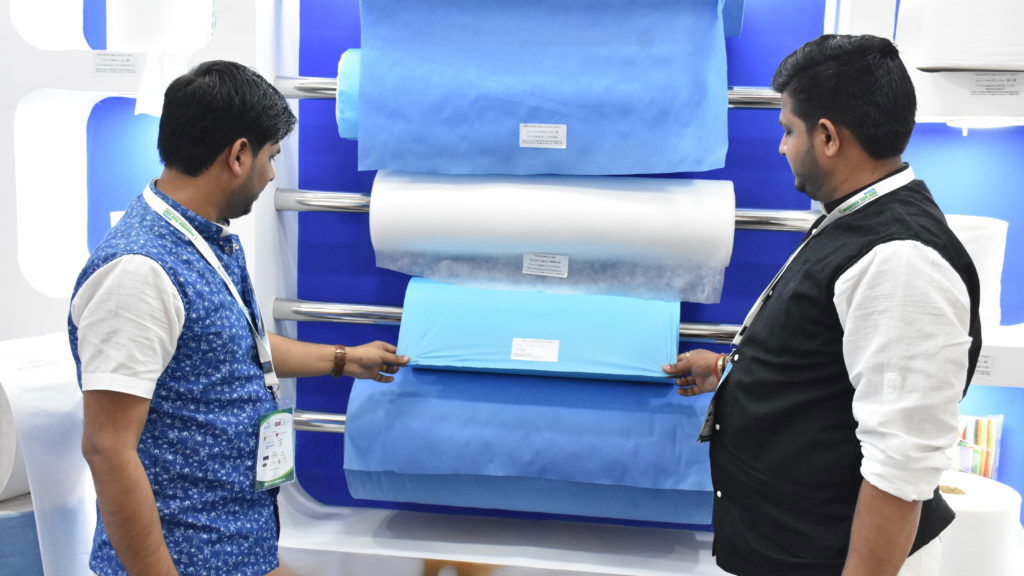 Get Free Sample Kit Of Our Fabric At Your Door Step
Online Order
Door Delivery
1-Click Quotation
➢     Does Favourite Fab provide free sample raw material for a baby diaper?
Favourite Fab, a leading SMS nonwoven fabric manufacturer in India provides free samples on demand. It also provides free samples of baby diaper raw material. We are the Best baby diaper raw material suppliers.
CLOSURE | NON – WOVEN FABRIC | FAVOURITE FAB
The nonwoven fabric is cost-effective, environmentally friendly, disposable, and harmless to use. Favourite Fab is a raw material supplier in India.  It exports its nonwoven fabric to other countries like the USA actively. The diaper market is a billion-dollar industry, hopefully never runs out of business. Favourite Fab, a nonwoven manufacturer in India supports its clients actively by providing the best and affordable quality in the market.
| | |
| --- | --- |
| Product Description: |   |
| Name | Raw Material For Baby Diaper |
| Brand Name | Favourite Fab |
| HSN Code: | 56031111 |
| Price Currency | USD |
| Price | 2 |
| Aggregate ratings | 4.3 |
| No. of ratings | 276 |
| Highest Rating | 5 |