Favourite hub is a leading manufacturer and supplier of non woven fabric, located in Agra city. Since 2011, we have been manufacturing and selling nonwoven fabric and nonwoven-related items. Our products are highly used in agriculture and gardening, medical and hygiene, personal care and cosmetics, industry application, packaging and wrapping, hotel and restaurant, labor security, and household. When you look at nonwoven fabrics closely, you will notice that they work in ways that set them apart from traditional fabrics, paper, and films. Polypropylene nonwoven is the most popular synthetic fiber used in disposable diapers.
We are a reputable diaper raw material provider. Our fabric technology for baby diapers is a reliable investment used to produce pull-up panty diapers and diapers with side closure with high manufacturing precision, process optimization to reduce scrap, and compact design. We currently have a professional elite sales team and several advanced nonwoven production lines with widths of 1.6M up to 3.2M and other sizes.
We manufacture both hydrophilic and hydrophobic nonwoven fabrics for use in diapers. For the Top Sheet of the Diapers, Hydrophilic Spun Bond Nonwoven Fabrics are widely used. The Diapers Back Sheet is made of Hydrophobic Spun Bond Non Woven Fabrics. We produce nonwoven fabrics ranging in weight from 8 to 15 grams per square meter used in diaper making.
For the production of hydrophilic and hydrophobic nonwoven fabric, we installed a particular in-house coating plant for better quality control; it's an offline treatment. The nonwoven fabric is first and foremost used for a child, and feminine hygiene; however, with the advancement of medical technology, doctors and state-of-the-art hospitals increasingly turn to nonwoven fabrics, cost-effective, environmentally friendly, and disposable. The spun bonding process gives good tensile strength, and abrasion resistance is used to make most nonwoven fabric.
Due to the pandemic outbreak, we developed Pp (polypropylene) nonwoven fabric, pet (polyester) nonwoven fabric, SMS nonwoven fabric, weed control fabric, disposable bedsheets, security bag, etc. some of the most popular items these days.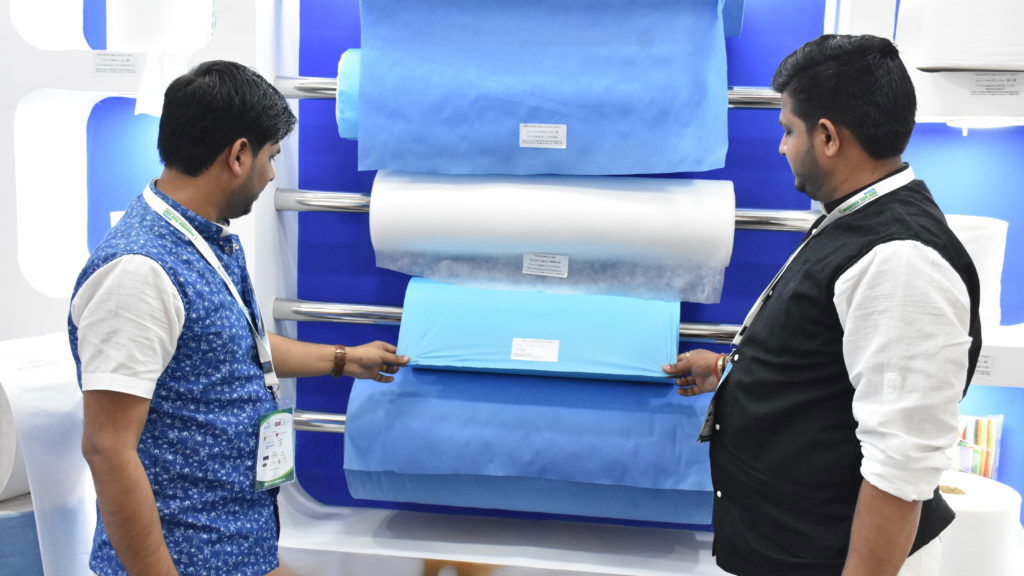 Get Free Sample Kit Of Our Fabric At Your Door Step
Online Order
Door Delivery
1-Click Quotation
Nonwoven Diaper Material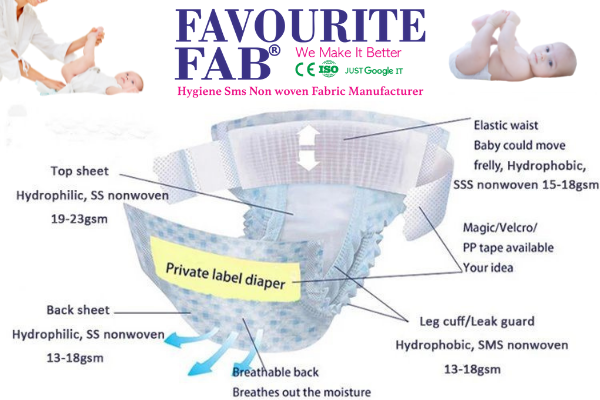 Modern diapers can appear to be plain, but they conceal sophisticated technology. Every day, a child requires five to six diapers. In two and a half years, this equates to around 4,800 diapers. A diaper's capacity can range from 550 ml to 1050 ml, depending on its size. Favourite Hub provides high-performance nonwoven fabrics for diapers that direct moisture to the suction heat, resulting in dry skin.
Nonwoven fabric is preferred for disposable diapers because of its soft, breathable, non-irritating, and non-sensitizing. PP spun bond nonwoven fabric nowadays is widely used in baby diapers, sanitary fabrics, and other industries.
Non woven fabric raw material for disposable baby diaper Characteristics:
To achieve the best Nappys Non Woven Raw Material product performance, we make it with precise technical parameters. The following is a list of nonwoven fabrics that are versatile.
Lightweight and soft to the touch
Water absorption is excellent.
Excellent re-wetting properties attack
Free of chemical toxins
Dermatological in origin
On delicate skin, it's gentle
Excellent run-ability on modern highspeed machine
Ensure comfort wear, dry and safe
Nonwovens in absorbent hygiene products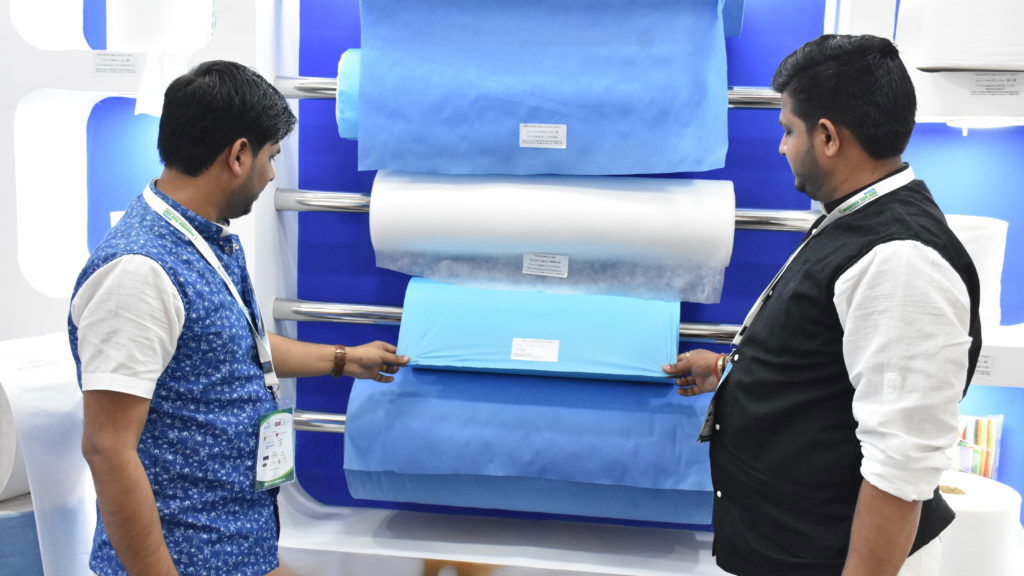 Get Free Sample Kit Of Our Fabric At Your Door Step
Online Order
Door Delivery
1-Click Quotation
Product Specification
| | |
| --- | --- |
| GSM Range | 8 to 15 GSM |
| Width of Fabric | 2000 mtr |
| Length of Roll | All size available |
| Colour of Fabric | White Blue |
| Available in | Hydrophilic, Hydrophobic, Microporous Breathable, Laminated |
| Used For | Raw Materials – for sanitary napkins and diapers Baby and Adult and Sanitary Napkins |
When babies become more involved, the best diapers are those that enable them to move about freely. Diapers should ideally be stretchy, easy to put on and take off and allow babies to move freely. Previously, diapers were made of elastic string or stretchable film. Some were too close, making it difficult to put on diapers. Others were inadequately breathable, exposing babies to rashes. They were all far from perfect, with so many issues. Nonwoven's fabric, which Favourite Hub successfully developed, was the answer to these problems. we have one of kind Sanitary Napkins Raw Material Manufacturer unit
Nonwovens made of hydrophobic polypropylene are impermeable to liquids and are used as leak guards in the crotch region. This fabric is used to keep leaks out of the diaper's leg cuff pocket. The liquid-permeable top layer that comes into contact with the baby's skin is made of hydrophilic polypropylene nonwovens. The urine will pass through this fabric section and enter the absorbent part.
The thickness of a baby's skin is about half that of an adult. Irritation may be triggered by the tiniest of disturbances. Nonwoven fabric is gentle on the skin and helps minimize friction, so they're ideal for baby bottoms. Urine quickly passes through the nonwoven, ensuring that the surfaces that come into contact with the baby's skin are still dry, relieving the baby's discomfort and making the material feel more relaxed. Nonwovens also have a cleaner feel thanks to the manufacturing processes used.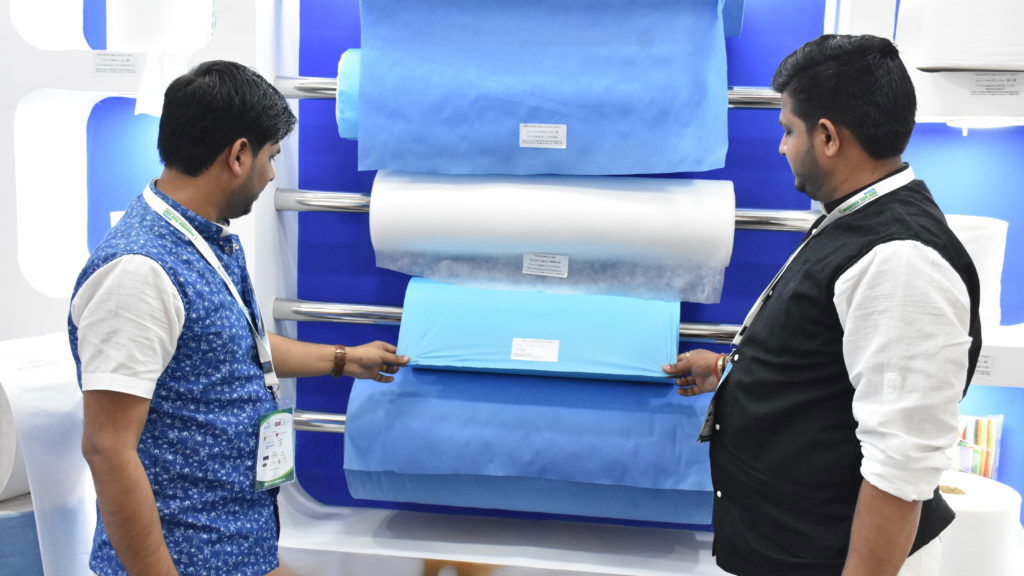 Get Free Sample Kit Of Our Fabric At Your Door Step
Online Order
Door Delivery
1-Click Quotation
Coatings and additives are used to transform naturally absorbent fibers like cotton into hydrophobic or hydrophobic materials. The resin bonding method joins and treats various fibers to create the appropriate nonwoven characteristics for the application.
After high-temperature drying, disinfection, and other methods, we also spray antimicrobial materials on the surface of nonwoven fabrics using the reprocessing method. The antimicrobial and bacteriostasis properties of the treated nonwoven fabric prevent bacteria from growing. Following the absorption of water, Absorbent nonwoven fabric can weigh up to three times its original weight.
The antimicrobial and bacteriostasis properties of the treated nonwoven fabric prevent bacteria from growing. The nonwoven fabric can absorb baby urine rapidly after water absorption therapy, reduce the incidence of infant diaper dermatitis and keep baby skin dry. We have a stringent quality control system in place, as well as professional nonwoven testing equipment.
Our goods comply with several requirements and come with various certificates and reports, including SGS, MSDS, CE, ATC, CTI, etc. Based on advanced technology and excellent management, we can manufacture and build according to customer requirements and specifications. We also provide nonwoven product consultant and agency services based on the faith of many clients.
We continue to work tirelessly and excel, with the business philosophy of "Quality First, Reputation Builds Future," to boost competitive marketing abilities and, ultimately, achieve the company target. Complete customer support and assistance, as well as timely delivery in four to six weeks. Get in touch with us to discuss your project! Raw Material For Diaper Manufacturing Pdf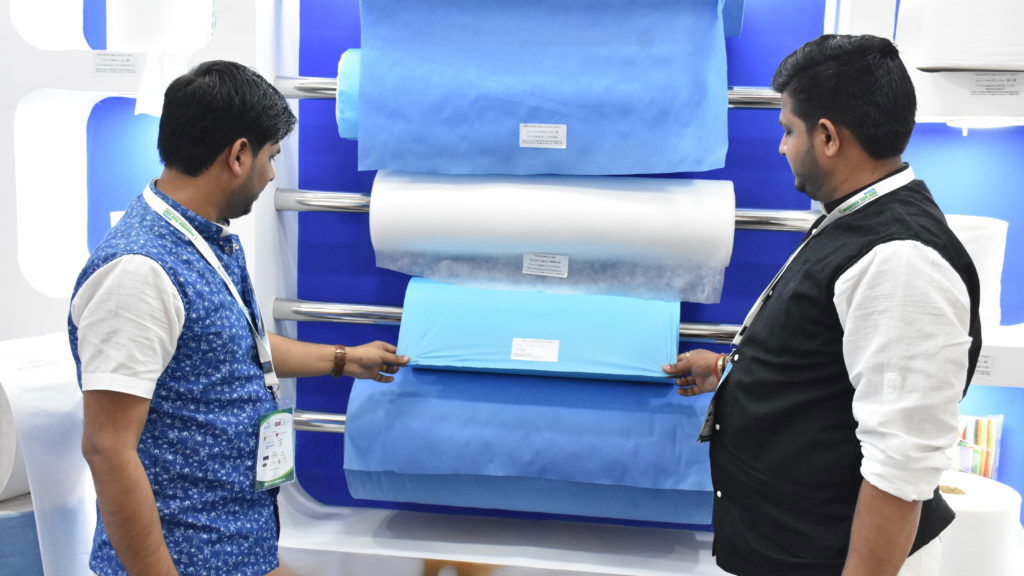 Get Free Sample Kit Of Our Fabric At Your Door Step
Online Order
Door Delivery
1-Click Quotation