Favourite Hub is a leading manufacturer of SMS composite nonwoven fabric Suppliers of baby diaper raw materials and a sanitary napkin and underpad raw materials and other products. Its primary goal of producing disposable hygiene products for medical and hygiene industry.
Since 2011, Favourite hub producing tons of of SMS material like nonwoven fabric and nonwoven-related products. Our baby diaper fabric technology is a sound investment that allows us to produce fabric for pull-up panty diapers and diapers with side closure with high manufacturing precision, scrap reduction, and a compact design.
There is a clear motive towards comfort and thinness in the baby diaper industry these days. Diaper producers have been able to tackle a variety of moisture and leaking difficulties thanks to technological advancements. While a body-hugging nonwoven fabric fit helps avoid leaks, ultra-thin diapers help keep a baby's clothing looking trim. In addition to their aesthetic appeal, technological advancements in nonwovens and films have allowed us to lower the weight of these materials over time significantly.
We are the industry leaders of SMS Nonwoven Fabric Manufacturer, Supplier, Exporter. We provides the highest quality SMS nonwoven fabric for baby diaper.
Nonwoven fabric with embossing or apertures allows air to pass through.
S SS and SSS spunbond nonwoven fabrics are soft and nonwoven.
Cotton spunlace is used in baby diapers, among other things.
Favourite Hub technology for the production of baby diapers is a solid investment due to its high manufacturing precision, process optimization to decrease scrap, and modular design for minimum maintenance. In addition, our SMS nonwoven fabric can be use to produce pull-up panty diapers and diapers with side closure.
We start producing Pp (polypropylene) nonwoven fabric, pet (polyester) nonwoven fabric, SMS nonwoven fabric- disposable bedsheets, security bag, and other popular things for medical use in response to the current global pandemic.
SMS Non woven fabric characteristics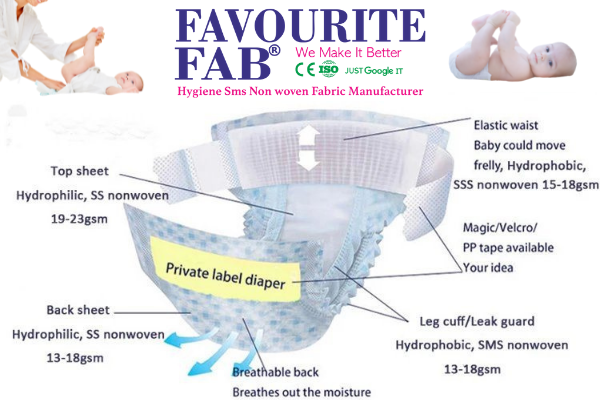 Nonwoven surface feels soft against a baby's skin.
Good elastic tension allows the baby to move freely against resistance.
A good tensile proportion allows for easy training and waring.
Can be customized to meet specific needs.
Low fluffiness, high strength
Moisture absorption is high, and it happens quickly.
There is adequate ventilation.
Soft and in good condition
There is no adhesive reinforcement, and it is washable.
The nonwoven fabric provides a comfortable fit and helps to prevent leakage. Our nonwoven fabric sheets that make up the diaper's body keep it in place. Because of how they are made, nonwoven fabrics differ from traditional fabrics. Silk, cotton, polyester, wool, and other fibers are woven together to create an interlocking network of fiber loops in conventional fabrics.
We currently have a skilled expert sales team and numerous innovative nonwoven production lines with widths ranging from 1.6M to 3.2M and different sizes. In addition, we create Water Proof Anti-static SMS nonwoven fabrics with weights ranging from 8 to 15 grams per square meter that are utilized in diaper manufacturing.
Non woven fabric preparation for diapers
Nonwovens are usually made of plastic resins like nylon, polyester, polyethylene, or polypropylene. These materials put together mechanically, chemically, or thermally interlocking the plastic fibers. For diapers, we produce both hydrophilic and hydrophobic nonwoven fabrics. We installed an in-house c plant to produce hydrophilic and hydrophobic nonwoven fabric for Hygiene Applications and better quality control; it's an offline treatment.
The wet-laid process and the dry-laid process are the two main methods for assembling nonwovens. Nonwoven diaper fabric is typically made using a dry-laid approach, such as the "meltblown" method. The plastic resin is melted and forced through tiny holes by air pressure in this method. The fibers condense into a sheet as the air-blown stream cools. The fibers are then flattened and bonded together using heated rollers.
The absorbent top sheet is usually made of polypropylene, while the non-permeable back sheet is generally made of polyethylene. The absorbent pad is vacuum-formed, then attached to a permeable top sheet and an impermeable bottom sheet in a multi-step process. Finally, heat or ultrasonic vibrations are used to seal the components together.
The melt-blown process, as described above, is used to create sheets of nonwoven fabric from plastic resin. These sheets are made from a wide roll called a "web," which is then cut to the right width for diapers. The top sheet has one web, while the bottom sheet has another.
Because the nonwoven fabrics are often made in a separate location, this step does not always happen in the same order as the pad formation. Instead, these large bolts of fabric are connected to special roller equipment that feeds fabric to the assembly line when the manufacturer is ready to start diaper production.
Natural absorbent fibers like cotton are transformed into hydrophobic or hydrophobic materials using coatings and additives. The resin bonding method joins and treats different fibers to create SS SSS SMS SMMS Super Soft Nonwoven fabric for baby diapers, which are appropriate for the application.
WHY SHOULD YOU CHOOSE US?
Invest in and own shares in nonwoven and loop & hook factories, ensuring that the quality of the raw materials is controlled from the beginning.
When we buy in bulk, we can receive the most excellent pricing from factories and pass those savings on to our clients.
We can blend all kinds of raw materials according to the needs of our customers, saving them money on purchases, freight, and flow.
A professional OC team works in tandem with a lab system to ensure that the quality of the raw materials is strictly monitor.
The abroad staff is responsible for providing continuous service, 24*7 online support, and barrier-free communication in English, Russian, and Spanish.
The free offer includes diaper/sanitary napkin/under pad fabric machine technology service, spare parts service, experienced operator service, and lab testing service.
Favourite Hub, an SMS Nonwoven Fabric Manufacturer, Supplier, and Exporter, offers nonwoven product consultant and agency services based on client confidence. Within 48 hours, we will approach you with a response to your inquiry. Want to be your long-term partner? Kindly contact us and we will do everything we can to help you.