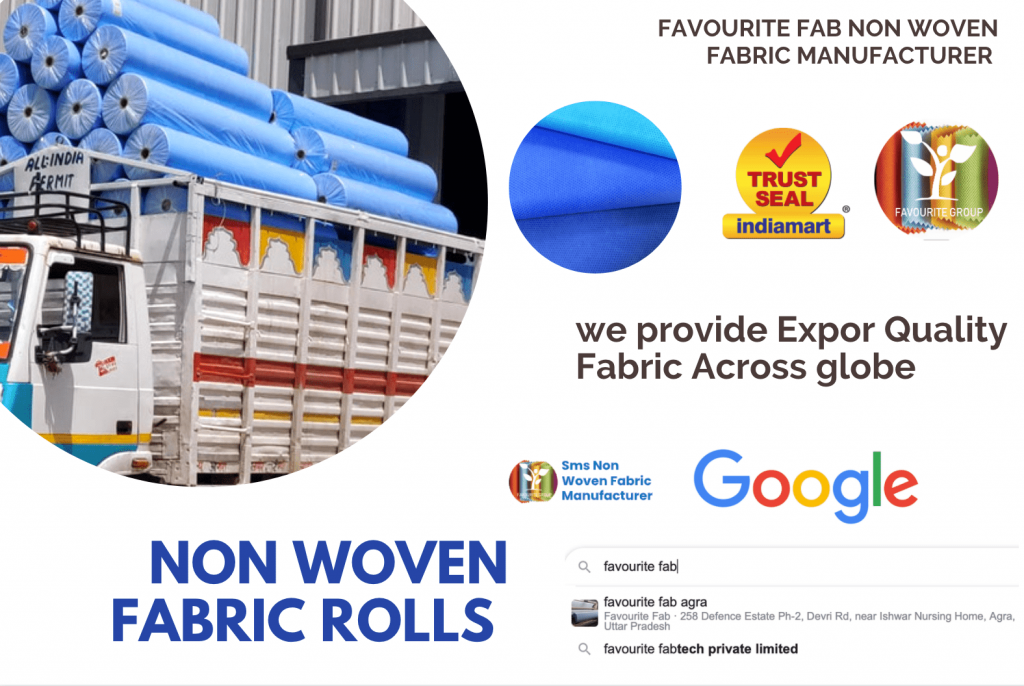 we are Favourite Fab India Largest Manufacturere and expoter of non woven Fabric roll
FAVOURITE HUB NON WOVEN FABRIC
We Are Leading manufacturer of non woven Fabric we will help you to get in touch with us 
Non Woven Fabric Roll Manufacturer in India
With ample concerns being raised against plastic for carrying or packaging purposes, non woven fabric has come up as a solution for this. With ample players entering the market, the number of suppliers for non woven fabric manufacturers has increased. With the huge demand, they have come up with updated technology in this field as well. On the one hand, these rolls and their resulting finished products are environment friendly, and on the other hand, they are extremely pocket friendly. With their ability to reuse, the number of times they can be used depends upon how well they are taken care of. Unlike another plastic packaging, which takes years to break down into degradable components, this gets easily broken down and is very easy to be decomposed. 
Non Woven fabric has been gaining utmost value in recent days. The number of non woven fabric roll manufacturers in India has gone up to meet the market demand. With Non Woven fabric rolls' availability in the market, many big industrial players who deal in the export and import of materials have started switching to non woven fabric packaging material for their dispatches. Others who deal in retail and offline stores have been following the trend. With their customized carry bags and packaging covers, they have also taken a step forward to contribute to the environment's safety and reduce their packaging costs. 
As a non woven fabric manufacturer, we ensure that the product is made after several quality checks and is ready for the market only after it gets a green signal from the quality and assurance team. Several machines and technology are put to use to manufacture this fabric and later convert it into different end products. The fabric rolls are accorded with stipulated thickness based upon the further processes that the roll has to go through. The more thickness, the difficult it gets to fold it and make it into delicate end products. 
The pandemic times have impacted the sales of many things, including non woven fabric rolls, but we have ensured that during this time also, our customers are not impacted. Customer satisfaction and dealing with them with politeness and ensuring timely and quality service have let us sail through the pandemic times with ease and elegance.  
Manufacturing and exporting Non Woven fabric is our forte, and we ensure to dispatch high-quality premium non woven fabric rolls in eco-friendly and durable packaging. The trust that has been built on us by our customers has always been reciprocated by us in the form of timely delivery, best quality products, and polite and timely after-sale service, wherever needed. Our material is of superb quality and can be easily molded into different finished products as per the use and demand of the customer. 
We have a wide product range, including Non Woven plain fabric roll, Non Woven fabric roll, laminated non woven fabric roll, plain pp non woven fabric roll, and pp non woven fabric roll. Color variation is also possible, and different colors in which these non woven fabric rolls are available include blue, red, yellow, green, orange, white, etc. The designs and patterns can also be customized based upon the client's requirements. Floral prints, striped designs, small checks, polka dots, and so on are available different patterns. The patterns are usually in a single color, commonly known as self designs, but can be made in more colors based upon the client's preferences. 
The major features that make non woven fabric stand out from the rest of the packaging and shipping material include the following: 
– Eco-friendly
– High strength
– Durable
– Varied thickness ranging from 20 GSM to 150 GSM
– Various specifications to meet client requirements
– A hassle-free substitute to plastic
– Versatile designs
– Reasonable prices
– Recyclable
– Water-resistant
– Lets air pass through easily
The many end products that can be made from the use of non woven fabric rolls as the raw material include, but not limited to, the following: 
– Non woven bags
– Various covers
– Packaging material
– Sacks
– Crop cover
– Rice bags spun bond non woven fabric
– Wallcoverings
– Curtain blinds
– Non woven fabric for tea packing bags
Many players in the market are shifting to the use of non woven fabric for many different products and uses owing to different reasons. 
Why are non woven fabric rolls preferred over other plastic materials?
– Cost-effective
– Reusable by customers
– Gives the public image that you care for the environment
– Lightweight, makes packaging and sending easier
What are non woven fabrics made of?
Non woven fabric rolls are made of spun and bond polypropylene fiber which is smooth, soft, and allows air to pass through, unlike the polyethylene, which is used to make plastic bags. The non woven fabric's material is in the form of a web that looks almost similar to cotton. When used as packaging material, it ensures keeping the products safe. Upon using as bags or other carrying things, it gives durability and can be converted into attractive designs, and printed bags are an amazing way of indirect marketing. It has a less stable chemical structure, which is liable to chain degradation and, as such, is extremely environment friendly. The non woven fabric roll size, weight, and thickness can be altered based upon the clients' needs and requirements and upon where and in what manner this roll is used. 
20 GSM non woven fabric roll price is different from the 50 GSM non woven fabric roll price. The pricing of these fabrics can vary depending upon many factors. To get to know the best prices available, get in touch with us, or drop in your query, and we will assist you with the lowest prices for the product, ensuring that the quality is not compromised despite ensuring the lowest prices. As has been communicated earlier, we are the best in the industry regarding customer satisfaction and fulfilling timely orders. Our team is polite and is dedicated to customer satisfaction.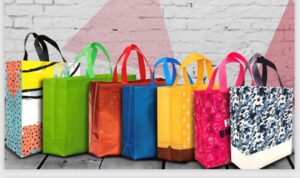 Welcome to the world of excellence in Bopp non-woven fabric manufacturing. We are your premier Bopp non-woven fabric manufacturer in India, and in this comprehensive
Read More »