Pioneer Non Woven Fabric Manufacturer In Chandigarh
Get the Hygiene, untouched spunbond fabric in Chandigarh by Favourite Fab, the world's leader in manufacturing. Contact Us Today!
Chandigarh is the flourishing capital of Punjab and Haryana, experimenting in the field of textiles too. Besides traditional agriculture, people are curious to apply modern agriculture techniques such as crop cover, shed net, etc.
The Polypropylene non woven fabric is a good material that would help achieve the progressive Punjab goal by keeping it clean and healthy.
Today, Let us explore the application, features & various aspects of non-woven fabric, and how the leading manufacturer Favourite Fab can help get the pp nonwoven at your doorstep.
Get Free Sample Kit Of Our Fabric At Your Door Step
Online Order
Door Delivery
1-Click Quotation
The nonwoven fabric comes with versatile attributes which makes it an allrounder for various fields; some of the crucial features are described below:-
Easier to use & lightweight
Customisable features & modification as per industrial use
Efficient, durable & recyclable
Strong bonded, multicolour, easy-handling
Comes at an affordable price
| | |
| --- | --- |
| Name | Non Woven Fabric |
| Composition | Polypropylene (PP) |
| Weight of A Roll | 40-80 KG or As Per Order |
| Width of A Roll | 63" & All sizes |
| Colour | Black, Ivory, Red, M. Blue Or As Per Order |
| Pattern | Plain |
| Certificates | ISO, GMP, FDA, NITRA, CE |
| MOQ | 1000 kg (1 Ton) |
Get Free Sample Kit Of Our Fabric At Your Door Step
Online Order
Door Delivery
1-Click Quotation
| | |
| --- | --- |
| Brand | Favourite Fab |
| GSM | 40 gsm or As Per Order |
| Material | Non Woven Fabric |
| Composition | Polypropylene (PP) |
| Usage/Application | In Medical, Bag, Agriculture, Mattress Industry |
| Features | Strong FibresFine PatternDurableManufactured Untouched |
| Packaging | In ROLLS, wrapped with Shrink + Raffia |
| Price | 90 Rupees Per KG |
Due to the various unique features, the fabric is found suitable to be used in numerous industries:-
In making surgical masks, civilian masks, gowns, coveralls, protective equipment etc. You may find the fabric superior to Medical Non Woven Fabric Wholesaler In Chandigarh from Favourite Fab.
In making sanitary pads, diapers, adult diapers, tampons etc. Favourite Fab is recognised as Export Quality Non Woven Fabric Manufacturer, as we getting an inquiry from Russia, and African countries for the same.
In making grocery bags like D cut or W cut, or box bags. You may get a customisable quality fabric for making bags which is surely better than Bag Non Woven Fabric Manufacturer In Chandigarh.
In making crop covers, shed nets & fruit covers etc.
Other Industry such as mattress, and clothings are also being benefitted with non-woven fabric.
Get Free Sample Kit Of Our Fabric At Your Door Step
Online Order
Door Delivery
1-Click Quotation
Favourite Fab, a subsidiary of Favourite Fruit Preservation Pvt Ltd, is the most considerable option in nonwovens. We strive to provide you with quality fabric at the most competitive prices. We have customisable texture, GSMs, colour, absorbency, filtration, and strength facility which would be highly helpful for you. Contact us now to concern how Favourite Fab can provide you with the desired fabric.
Fabric manufacturing is a matriculation process which requires handling by experienced hands. We are delighted to inform you that we have machine operator experience of more than 15 years.
We acquired the capacity to manufacture the fabric as per customers' requirements.
We are delighted to thank you for selecting us as your non woven fabric provider. We tend to serve you better as said "through thick and thin."
The covid period passed, Favourite Fab was in support of you, now there is a monopoly of some manufacturers, again we are with you. It is better late than not, now we are open to the whole globe to serve. We are just a few clicks away from reaching you & rinse your queries. We like our work, we like to have your presence, and we like to see the growth of non woven industry.
The only task to handle the selling of non woven fabric does not come only under non-woven suppliers, there must be execution of the fabric at the right time, maintenance of the material till loading, and ensuring the right way loading of the fabric. These are the responsibilities which are accountable to the non woven cloth manufacturer. De facto, these things affect you a lot while deciding who is a sustainable non woven fabric supplier.
The attempt of derogation and defalcation of the customer kick out the spunbond supplier from the race.
If you would order even a ton of material from Favourite Fab, you will find all these things and would be satisfied a lot. The remembrance of the above features has led us long in the market.
Before ordering, the fabric it is important to have a look at the quality of the textile, you are going to purchase. Suppose a manufacturer has the same or similar kind of material. In that case, it is a surety that he can manufacture the material you desire.
Putting your inquiry
Giving us your detailed requirement or PO
Filling out the sample form
The points you may notice after receiving the samples:-
Have you received the same material
The best price of the material
The freight till your location
Confirmation of the order
A dime a dozen, we provide special quality fabric to the people of Chandigarh, we offer them our five unique qualities that are verified by our wide customer network.
The manufacturers of Delhi contact Favourite Fab & purchase the material in bulk. You may contact Favourite Fab directly, which would be profitable for you.
The non woven fabric let it be spunbond or spunlace or any other, it comes in the form of a roll. The general roll weight is 30 to 40 kilograms. The Minimum Order Quantity at Favourite Fab is 1 ton.
The Goods and service tax on non woven fabric is 12%.
Get Free Sample Kit Of Our Fabric At Your Door Step
Online Order
Door Delivery
1-Click Quotation
Finding the Top non woven fabric manufacturer in India is not a hard nut to crack, for physical verification, you may raise inquiries, ask for samples, compare the samples and choose your Top Manufacturer.
The non-woven fabric price is 85 Rupees per Kg. You may contact us for seeing the pictures or samples of fabric. If you want you may directly visit our factory in Ruanakta, Agra.
We have also sold the material to various places in Chandigarh, you may have a bird's eye view of the places where we supplied the fabric:-
| | |
| --- | --- |
| Places | Material Sold in Ton |
| Industrial Area Phase | 6 |
| Industrial Area Phase II, 160002 | 5 |
| Sector 26, Chandigarh, 160019 | 4.5 |
| Sahibzada Ajit Singh Nagar, Chandigarh 160036 | 7 |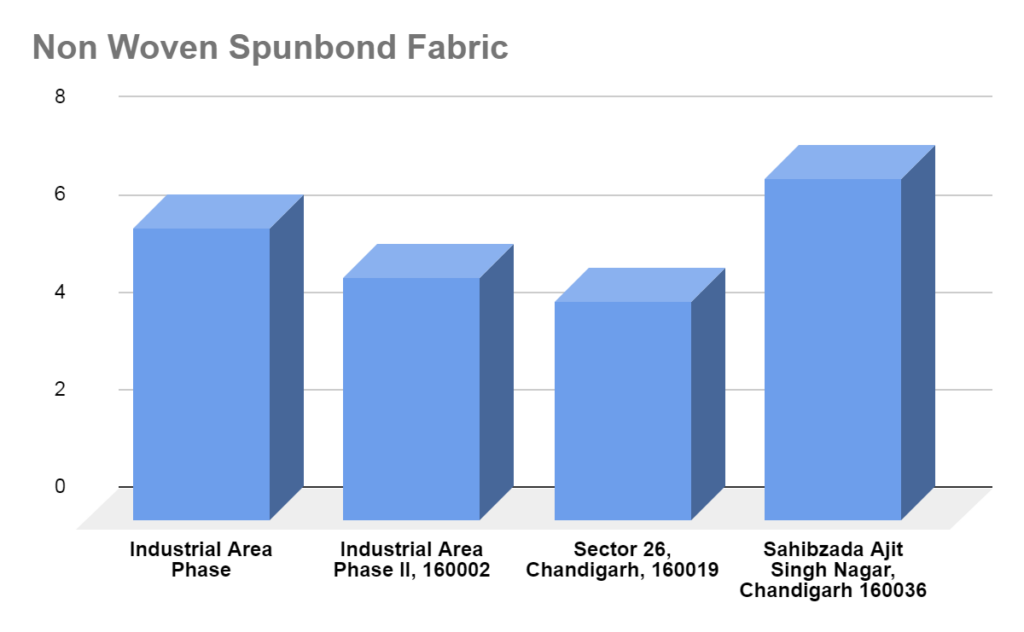 Frequently Asked Questions
What is Non Woven Fabric Price?
The non woven fabric price is 85 Rupees Per Kilogram, excluding 12% GST.
Who is Non Woven Fabric Manufacturer Near Me?
If you are a person living in central India, Favourite Fab is non woven fabric manufacturer near you.
Who is the Best Quality Non Woven Fabric Manufacturer In Chandigarh?
Suppose you are searching for the best quality fabric manufacturer in Chandigarh. In that case, you must contact Favourite Fab, we have sold nonwoven to more than 3 thousand customers only in Punjab, and our clients are happy & purchasing from us regularly.