Most nonwovens industry report companies rely on high-volume production that is highly engineered. Because of the need to stay competitive, innovation is needed to ensure high-quality goods that meet specifications are made at the lowest cost possible. They must be at the forefront of these innovations to have a sustainable future. Technological advancements in machinery, process control, and materials drive the sector.
What Is the Nonwoven Industry and How Non Woven Fabric is Made of?
Nonwovens can be made without weaving, knitting, or making yarn out of the fibers. Nonwovens industry top companies are created from fabrics that can either be very durable or single-use disposable. Baby diapers, adult incontinence products, wet wipes, surgical drapes and covers, liquid cartridge and bag filters, face masks, air conditioner filters, soil stabilizers, and roadway underlayment, erosion control, drainage systems, insulation (fiberglass batting), pillows, cushions, and upholstery padding, carpet backing, automotive headliners and upholstery, house wraps, and disposable clothing are just a few of the many uses for them (foot coverings, coveralls).
date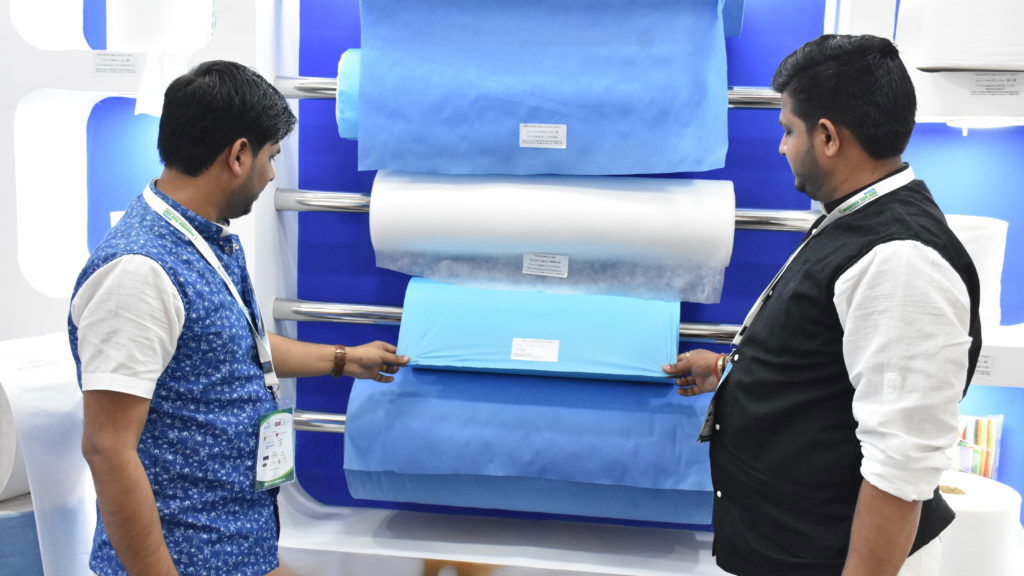 Get Free Sample Kit Of Our Fabric At Your Door Step
Online Order
Door Delivery
1-Click Quotation
The nonwovens industry since 1970 has been around for more than 50 years. Back then, they were often made from dry-laid carded webs using textile processing equipment used for other things. They were often seen as cheaper alternatives to traditional textiles. In traditional fabrics, chemical, mechanical, or thermal bonding of the web takes the place of weaving (or knitting) the yarns together. The yarn spinning step is left out in the nonwoven product industries processing staple fibers.
It's unclear where nonwovens came from, but the term "nonwoven fabrics" was first used in 1942, and the first ones were made in the U.S. These early "nonwoven fabrics" were made by adhering fiber webs together with adhesive. The American Society for Testing and Materials provided the first written definition of nonwoven fabrics in 1962, describing them as "textile fabrics constructed of carded web or fibre web held together by adhesives."
Nonwovens industry trends and materials have recently been used instead of polyurethane foam because they are more useful. This is mostly because of the natural benefits of nonwoven fabrics, such as their ease of use and low waste during production. It is cheaper and better for the environment than polyurethane foam and can be used for many different things.
By implementing industry-first technology and best business practices into our operating model, Favourite Fab has become a pioneer and a market leader in the non woven fabric industry beating supreme nonwoven industries pvt ltd credit rating by several points.
We are the first manufacturer of digital nonwoven fabric in India. Everything in this facility is automated. Favourite Fab team is committed to providing our clients with excellent service at all hours of the day and night. These characteristics set us apart from other people. In Sadar Bazaar, we provide the best non woven fabric pricing per kg.
Since Favourite Fab entered the non woven market, finding high quality non woven fabric in Sadar is no longer a problem. Our best non woven products made from the best reliance nonwoven industry llc raw materials has won the competition for the best non woven fabric manufacturer in Delhi. We are India's top non woven fabric producer because of better quality than supreme nonwovens industries pvt ltd.
Numerous consumers from Delhi we served claimed that Favourite Fab provides better quality than suprem nonwoven industries pvt ltd vapi. We are Wazirpur's top maker of non woven fabrics, and any sample can be compared to our sample kit. We are the fastest-growing non woven fabric firm in the world, and each month we offer something new to our clientele's services.
We can say with pride that we contributed to India's greatest non woven fabric industry outlook report. We've included a list of nonwoven product industries in Delhi, along with their contact information, so you can easily find them.
| | |
| --- | --- |
| Name | Non Woven Industry Cloth Material |
| Composition | Polypropylene (PP) |
| Weight | 25-80 KG or More |
| Width | All sizes till 126" |
| Color | L Yellow, Beige, M. Blue etc. |
| Pattern | Plain |
| Certificate | ISO, CE, NITRA |
| MOQ | 1000 KG |
The outlook for the nonwovens industry 2017 undoubtedly shifted in a progressive direction after five years of uncertainty and unprecedented growth and investment. Due to a rise in demand for protective clothing, healthcare applications, face masks, and disinfectant wipes, the world plans to add dozens of new lines and hundreds of thousands of tons of new capacity in 2020 and early 2021. These new lines and tons of power will come from nonwovens industry contact. But by the end of 2021, investment had slowed down because businesses had to deal with new problems, such as rising costs for raw materials, problems in the supply chain, rising energy prices, and more.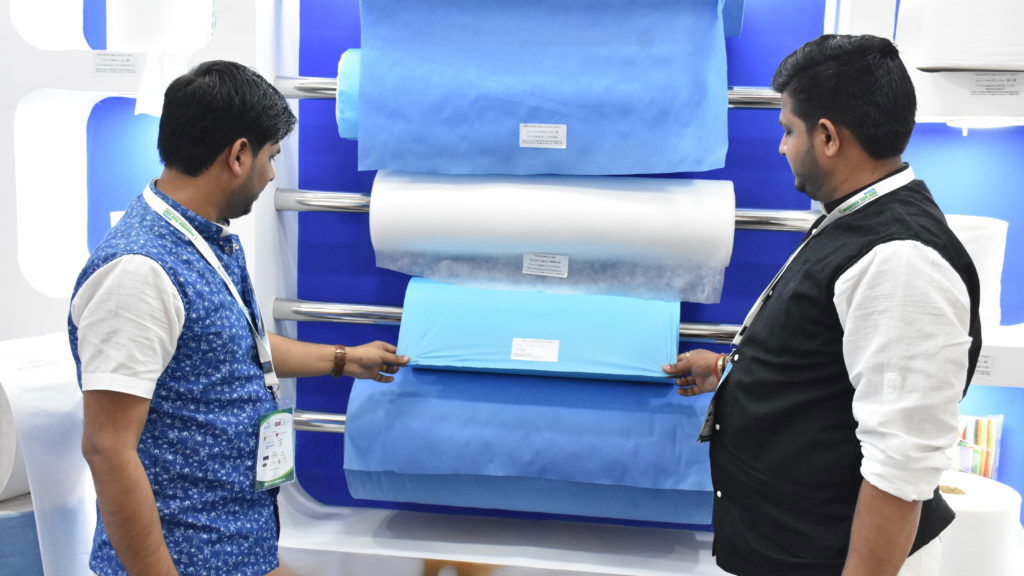 Get Free Sample Kit Of Our Fabric At Your Door Step
Online Order
Door Delivery
1-Click Quotation
There are top 40 companies 2021 represented in a survey. While many of the top businesses are headquartered in developed markets like the United States and Western Europe. Taiwan nonwoven fabrics industry association proclaims that less developed regions play an increasingly important role. More businesses report higher revenues this year from developing nations, including India, Brazil, Turkey, China, Taiwan, and the Czech Republic. Since many of these businesses concentrate on new line expansion and acquisitions, their rankings will only rise in the coming years.
In this study, the ranking of each company is based on its sales from the previous year (2021), which are converted from local currency to US dollars using the average exchange rate for 2021. Sales are estimated in several circumstances. In every case, these sales statistics do not consider economic factors that could influence rankings, such as changes in raw material prices or currency exchange rates. Even though this study requires hierarchy by annual revenue, these companies' actions, as described in their profiles, should also be considered.
1. Berry Global United States $3.1 billion
2. Freudenberg Performance Materials Germany $2.85 billion
3. Ahlstrom Finland $1.6 billion
4. Fitesa Brazil $1.5 billion
5. Kimberly-Clark United States $1.3 billion
6. Glatfelter United States $1.1 billion
7. Toray Industries Japan $1.023 billion
8. DuPont United States $1 billion
9. Alkegen United States $764 million
10. Johns Manville United States $725 million
11. PFNonwovens Czech Republic $690 million
12. Suominen Finland $524 million
13. Hollingsworth & Vose United States $475 million
14. Gulsan Group Turkey $451 million
15. Avgol Israel $450 million
15. Kingsafe Nonwovens China $450 million
15. TWE Group Germany $450 million
18. Sandler Germany $388 million
19. Fibertex Personal Care Denmark $330 million
20. Dalian Ruiguang Nonwoven Group China $320 million
21. Jofo Nonwovens China $300 million
22. Fibertex Nonwovens Denmark $266 million
23. Union Industries Italy $260 million
24. Nan Liu Industries Taiwan $245 million
25. Spuntech Industries Israel $207 million
26. Shalag Israel $200 million
27. Hassan Group Turkey $184 million
28. KNH Enterprises Taiwan $180 million
29. Xingtai Nonwovens China $175 million
30. Mitsui Chemicals Japan $167 million
31. Asahi Kasei Japan $166 million
32. Mogul Nonwovens Turkey $148 million
33. Halyard Health United States $140 million
34. Tenowo GmbH Germany $130 million
35. Saudi German Nonwovens Saudi Arabia $130 million
36. Beijing Dayuan Nonwovens China $121 million
37. Toyobo Japan $114 million
38. Unitika Japan $84 million
39. Precision Textiles United States $80 million
40. Kuraray Japan $74 million
During the forecast period, the nonwovens industry consulting services are anticipated to record a CAGR of less than 7%. (2022-2027). The COVID-19 pandemic had a negligible effect on the expansion of the nonwovens industry report. Consumers worldwide are now focusing on necessities and personal protective equipment as governments issue economic packages for SMEs and other perks. Shortly, the nonwovens industry newsletter is likely to be driven by growing uses in the healthcare and personal care industries and rising demand for electric vehicles.
Here are some of the latest development in the nonwoven industry:
The Favourite Fab started making nonwoven textiles used to make disposable medical gowns. Level 3 medical gowns are made with innovative polyester spunbond nonwoven. The fabric is better at keeping liquids out than the materials used for Level 1 and Level 2 medical gowns. It is also more comfortable and has stronger stitches.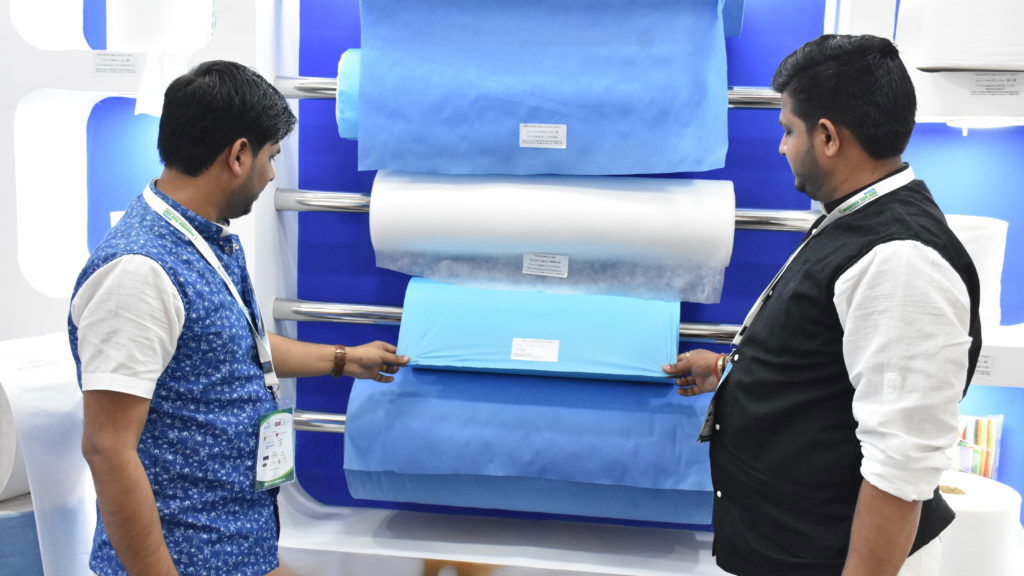 Get Free Sample Kit Of Our Fabric At Your Door Step
Online Order
Door Delivery
1-Click Quotation
The nonwovens and engineered fabrics industry, which has hundreds of member firms, the INDA Association of the Nonwoven Fabrics Industry. INDA educational courses, market data, test methods, consulting, and issue advocacy help members succeed by giving them the information they need to better plan and carry out their business strategies.
Nonwovens industry buyers guide is the only monthly trade publication dedicated to the global nonwovens industry top 40. Nonwovens Markets is the best place to get news, analysis, and information about market trends in the nonwovens sector around the world.
As a non woven fabric manufacturer, we sell our fabric with a high degree of service. Mr. Anurag Satsangi demonstrates non woven fabric examples for masks. When it comes to the qualities of non woven fabric, our sales team can tell you that our material has a GSM that is evenly spread, that our colors are true, and that we are the top non woven fabric roll manufacturer in India. Regarding the quality check of the best non woven fabric manufacturers in India, our sales team can tell you that our material has a GSM that is evenly spread, that our colors are true, and that we also offer roll width.
Everyone is interested in learning about the "non woven fabric manufacturers brands" depending on their location. The most excellent quality at the best price may not always be available from the closest non woven fabric manufacturers in Mumbai, so one should bear that in mind. So, we tell people to use our free sample package to compare our cloth to others before they buy. Our success is primarily due to the many success stories of our client's brands, which use our packaging supplies to beat competitors worldwide.
Our team of qualified experts shows how much we care about meeting the highest quality standards. Every piece of raw non woven fabric that comes into our factories goes through our advanced production methods and strict quality standards. This lets us offer our customers the best packaging solutions, improving the look of their products and making them more appealing and presentable worldwide.
Favourite Fab is the market leader, with the best reviews from non woven fabric manufacturers association in India. They are known for using cutting-edge technology to make all kinds of non woven fabrics. It is situated in India. Favourite Fab is also good at making non woven fabric for 3ply face masks, N95 masks, SMS fabric for surgical gowns, and non woven fabric for disposable carry bags. Manufacturers frequently create materials using non woven cloth. Not only have viscose fibers made from fermented maize and used in recycled lemonade bottles made a comeback in recent years, but so have fiber non wovens. We are a top non woven fabric manufacturer in India.
Recently Favourite Fab participated in the International Exhibition "8th Non Woven Tech Asia 2022" It was the event where a lot of non woven manufacturers from the world came under one roof & exhibited the non woven fabric. Favourite Fab, leading non woven cloth manufacturer of the world, was the only exhibitor who brought PE breathable film, Breathable film, State of the art catalogs. We are happy to say thatyou may find some information regarding the list of textile manufacturing companies in Malaysia.
Non woven fabric is used to produce a variety of healthcare items, including surgical gowns, aprons, drapes, components for face masks, and wound dressings. They're also found in hygiene items like sanitary towels, napkins, tampons, baby diapers, and napkin liners. Because of the COVID-19 epidemic, there has been a significant surge in the demand for non woven face masks to prevent the virus from spreading. This has resulted in an exponential rise in demand for non woven fabrics worldwide. Favourite Fab non woven fabric raw material is better than concord nonwoven industries pvt ltd Kolkata.
Due to the increased use of female hygiene products in countries such as India and China, Asia-Pacific is predicted to see a considerable increase in the use of hygiene products throughout the forecast period. It is currently estimated that more than 60% of Indian women do not use sanitary products. This is primarily due to the many people living in rural areas. The directors of supreme nonwovens industries pvt ltd Mumbai for non wovens in the country is predicted to grow fast as the penetration rate of sanitary care products rises due to increased hygiene measures.
As people worry more about cleanliness, Favourite Fab is providing much better and safe raw materials than proclaimed promoters of supreme nonwoven industries pvt ltd for feminine products and baby diapers has grown quickly in China. Other factors, such as population expansion, an aging population, and the global COVID-19 outbreak, are pushing demand for non woven materials in the healthcare business.
Industrial Nonwovens Market Share
The global non woven fabrics industry outlook is predicted to increase from USD 52.76 billion in 2019 to USD 105.03 billion by 2027, at a CAGR of 9.3% between 2020 and 2027. Due to rising incomes and rising birth rates in India and China, the Asia-Pacific region is expected to have the largest market share. Because of its aging population, Japan is expected to have the most market growth in the Asia-Pacific region because of how old its population is. Baby diapers, for example, have an impact on the Asia-Pacific region's rising birth rate. India and China expect their economies to grow faster because they are becoming more industrialized and their populations are growing quickly.
Market leaders like Favourite Fab is being compared with supreme nonwoven industries pvt ltd bhilad due to it's competitive market prices. TheSouth American nonwovens industry outlook 2015-2020 was driven by a big change in lifestyle and a rise in demand for personal hygiene products like tampons, diapers, and products for adults who leak urine. The low maintenance cost of road building is expected to increase market demand. Nonwoven fabrics are also a prominent leader in the list of non woven fabric manufacturing industries in Ethiopia. Consumers' lack of understanding is predicted to stymie industry expansion. The market is expected to grow a lot because more people are using products for cars, hygiene, and health care.
The polypropylene nonwoven fabrics segment is expected to increase the most, followed by polyester. The polypropylene market is driven by the fact that it can be changed with other chemicals and comes in many different grades. Based on technique, the market is divided into spunmelt, air-laid, dry-laid, wet-laid, and carded segments. The market is expected to grow greatly in the Dry Laid technology category because it can be used in hygiene, medicine, packaging, and cars. Construction, hygiene, upholstery, automobiles, and filtration are among the application segments. As people's lifestyles change and personal care and hygiene become more important, the hygiene category will likely dominate market growth.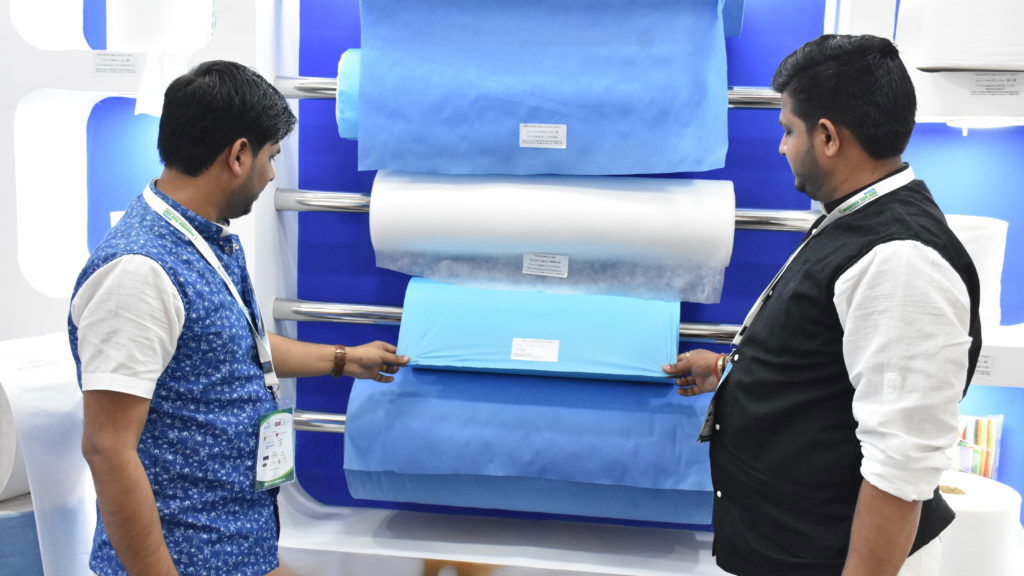 Get Free Sample Kit Of Our Fabric At Your Door Step
Online Order
Door Delivery
1-Click Quotation
FAQs
How many industry of nonwoven India are impacted by this hygiene revolution?
Global demand for medical fabrics and PPE has boosted the nonwovens sector. Because the supply-versus-demand scenario was already tight, manufacturers had to hurry to fulfill announced expenditures and plan additional ones.
David Parks, EVP, and GM, Asia, for Berry Global, says supply and demand are tight in healthcare, hygiene, and most specialty areas. Mid-range estimates from global, regional, and local clients in various areas show significant capacity in the future, including the announced Berry expansions.
Nonwovens are innovative, engineered fabrics made directly from fibers and used in many products and applications. Nonwovens are used in a variety of applications, including hygiene, medical, wipes, surgical fabrics, liquid and gas filtration, protective clothing, interlinings and clothing, leather-like goods and coating substrates, shoes, upholstery, floor covers, furniture, and beds. In 2019, the global market for nonwoven fabrics was worth USD 39.8 billion, and it is expected to grow by 8.4% from 2019 to 2028. Nonwoven fabrics market size was USD 39.8 billion in 2019 and is anticipated to grow 8.4% from 2019 to 2028. Increasing demand for personal hygiene products and an increasing population will drive nonwoven fabric growth in the future.
People are having more babies and living longer, which means they need more hygiene products like baby diapers, tampons, and products for adults with incontinence. This is likely to increase demand for nonwoven fabrics. Superior stretchability and flame resistance should boost market expansion.
What are the applications of nonwovens in technical textiles?
Nonwovens have a significant role to play in the medical industry today. Nonwoven textiles are used to make a variety of items, including surgical gowns, masks, drapes, pads, dressings, filtration materials, and textiles for implantation in the body.
DuPont stated in April 2022 that it would produce Kevlar, Nomex, and Tyvek using renewable energy. This shows the company's commitment to fulfilling its sustainability targets and incorporating environmental stewardship in its 2030 initiatives.
Who are the supplying leaders of the nonwovens industry in Sri Lanka?
Favourite Fab is the leading manufacturer and supplier of nonwovens industry in Sri Lanka.
Asia-Pacific is predicted to see a considerable growth in the use of hygiene goods due to the acceptance of female hygiene products in India and China. Over 60% of Indian women don't use sanitary items. This is owing to the large rural population.
What is the North American nonwovens industry outlook?
Using raw materials in production The amount of nonwovens produced in North America in 2021 was 4.790 million tonnes, an increase of 2.7% over the year before. The overall operating rate increased to 87% in 2021 as a result of production growth outpacing capacity growth.
What is the Supreme Nonwoven Industries pvt ltd share price?
Supreme Nonwoven Industries Private Limited is a 1984 non-profit. Private, unlisted 'corporation limited by shares'. Company has 60 lakhs in authorized capital, which is lesser than Favourite Fab.
How was the Shanghai International Nonwovens Conference & Exhibition?
Shanghai International Nonwovens Conference & Exhibition comprises non woven raw materials, production machinery, roll goods, conversion machinery, and converted goods. Hygiene, filtration, fabrics & apparels, medicinal, automotive, wiping, home furnishings & upholstery.
Why nonwovens industry media kit is required in the industry?
The NONWOVENS INDUSTRY publication is the preeminent source of media for the nonwovens industry on a global scale.
The Nonwovens Industry publication has the largest international network of qualified subscribers and receives more than 50,000 views each month on its website, making it the most successful media company in the nonwovens industry.