Favourite Hub is based in Agra, Uttar Pradesh. We are the best nonwoven fabric manufacturer in Delhi NCR across the country at a reasonable price with prompt delivery. We're known for our high-quality nonwoven medical textiles, which we sell at a low price to afford even small businesses. Over 2000 consumers in India have benefited from our services.
Our products are eye-catching and of the highest quality, with 99 percent customization to the customer's needs. There are many reasons why our prominent customers come to us solely, despite thousands of small and large players in this business such as nowotek textiles private limited, Paramount Tech Fab Industries, Park nonwoven, etc.
Every day, breakthroughs in the sector are reported, and these ideas are being embraced and enjoyed by clients worldwide. For example, the apparel business persevered in the face of adversity, resulting in the creation of nonwoven Geotextile fabrics that have altered the way the sector operates. In addition, nonwoven Fabric manufacturer in India has enthusiastically embraced nonwoven fabrics to increase fabric performance.
Key Involved Factors | Why Choose Us-
Extremely Low Prices
On-time delivery
High-quality products
After-Sales Support
Payments can be made in a variety of ways
Nonwoven Fabric
Nonwoven fabrics are sheets or web structures that are mechanically, thermally, or chemically bound together by entangling fibers or filaments (and perforating films). They are porous, flat sheets manufactured directly from individual fibers. They are not knitted, and they do not involve the conversion of fibers to yarn.
Given the correct treatment and facilities, some nonwoven textiles can be recycled after use. As a result, some people believe nonwovens are a more environmentally friendly fabric for some applications, particularly in fields and businesses where throwaway or single-use products are vital, such as hospitals, schools, nursing homes, and luxury hotels.
The transformation of fiber-based materials into flat, flexible, porous sheet structures with fabric qualities is a fundamental principle employed in nonwoven production. In practice, depending on the fiber material used and the required fabric properties, this principle is implemented at nonwoven fabric manufacturer in various ways. Our fabric is used in numerous applications, including; Baby diapers, adult incontinence products, surgical drapes and covers, liquid cartridge and bag filters, face masks, soil stabilizers, and roadway underlayment, insulation (fiberglass batting), pillows, cushions, and upholstery padding, carpet backing, automotive headliners, and (foot coverings, coveralls).
Raw Material
Fibers are chosen based on their qualities and projected performance in specific applications. Recycled or reprocessed fibers are preferable over new, first-quality fibers. Both staple and filament fibers are employed, and different lengths and different generic groups of fibers can be mixed. The fibers used are determined by the product being presented, the customer care provided, and the expected or desired durability. The cost of the fibers used is crucial in creating all fabrics, as it determines the cost of the final product
Nonwoven Fabric Characteristics
A nonwoven fabric's specific set of qualities is determined by a mix of elements during its manufacture. As a result, there are several ranges of traits.
Nonwoven fabrics can have a paper-like, felt-like, or similar appearance to woven materials.
They can have a soft, pliable hand or a firm, rigid, or broad hand with little flexibility.
They might be as thin as tissue paper or as thick as a sheet of paper.
They might be transparent or opaque as well.
Their porosity can range from very low tensile strength to very high tear and burst strength.
Gluing, heat bonding and stitching are all options for making them.
Development
Nonwovens are designed to have specific qualities that are suited to particular end purposes. Diapers, for example, can be made up of two nonwoven layers: an exterior layer of wetting-agent treated polyester that allows for quick fluid penetration while minimizing lateral weakening and an interior layer of absorbent rayon. Micro denier fibers can be used to make thin, high-filtration nonwoven fabrics for surgical masks. Certain features of conventionally made cloth are still being researched to achieve or possibly exceed them.
Nonwovens are sheets or webs of natural and manufactured fibers or filaments that have not been turned into yarns and are connected to one other using various methods.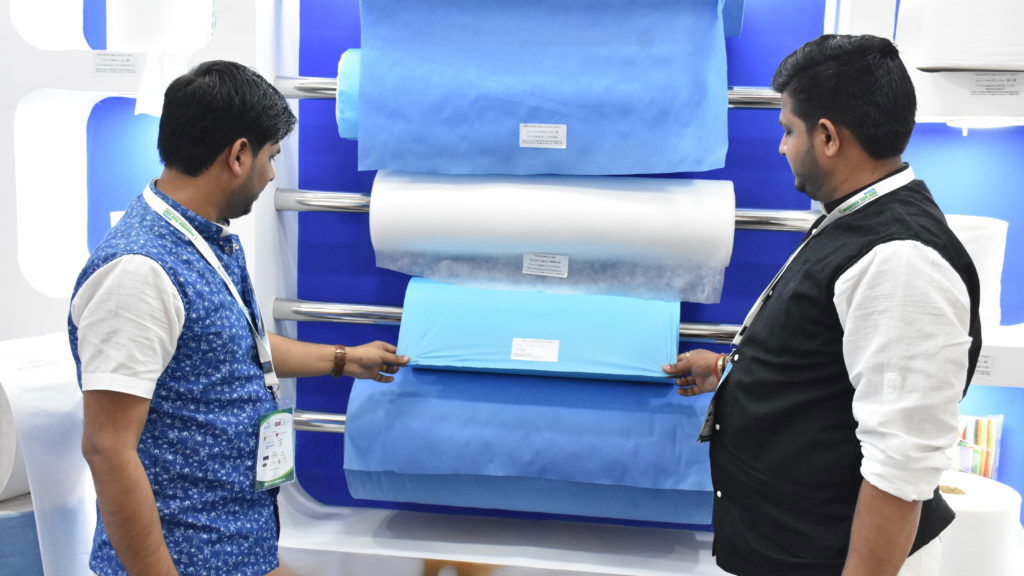 Get Free Sample Kit Of Our Fabric At Your Door Step
Online Order
Door Delivery
1-Click Quotation
The following are the many bonding methods:
Applying an adhesive
Thermally bonding the fibers to one another
Fusing fibers by melting their surfaces and then re-solidifying them.
Creating actual knots or tufts between the fibers.
Putting the strands or filaments in place with stitches.
Nonwovens aren't manufactured by weaving or knitting, and they don't require yarn conversion. As a result, nonwoven products are becoming more popular. Nonwovens are used in various applications, including disposables, durable consumer goods, and industrial materials. Because of its low cost and adaptability for a wide range of purposes, this type of goods is becoming increasingly popular in all of these fields. For example, disposable nonwovens are designed to be used just once; however, some, such as medical fabric, can be washed and reused several times. Filters, insulation, packing materials, roadbed stabilization sheeting, geotextiles, and roofing goods are only a few of the many industrial applications.
Product Details: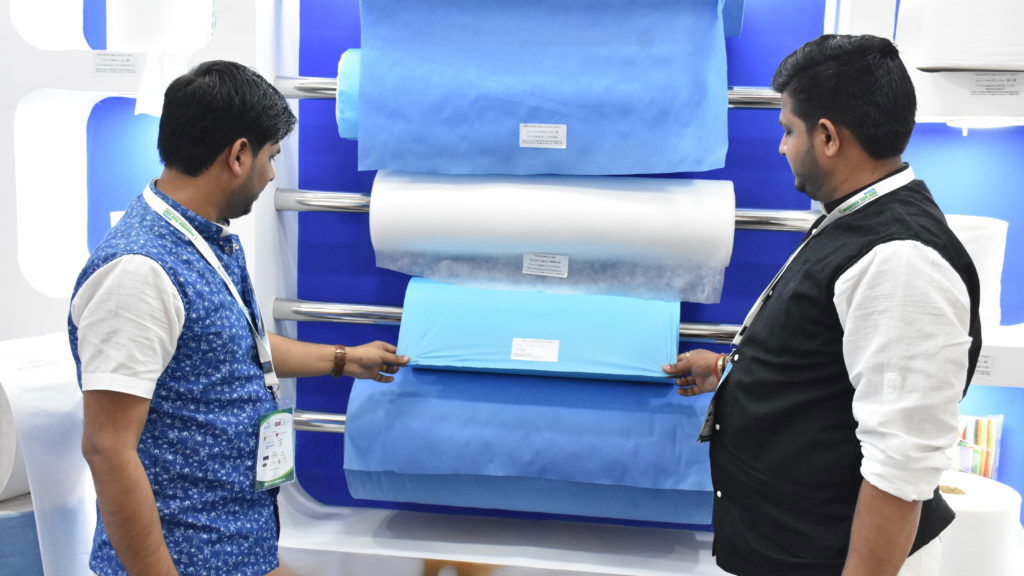 Get Free Sample Kit Of Our Fabric At Your Door Step
Online Order
Door Delivery
1-Click Quotation
Fabrics that aren't woven are available in a wide range of colors and patterns
We offer a comprehensive choice of nonwoven fabrics at a low price at the non woven fabric wholesale market in Delhi, Ghaziabad, Faridabad, Gurgaon, Uttar Pradesh, Panipat, and Bhiwani with the added benefit of excellent durability. Nowadays, demand for nonwoven fabrics has increased like anything in India due to the ban on plastic bags polythene imposed by the government. It has been mandated to use nonwoven fabrics for various purposes since then.
Our Policy
First: Customer Satisfaction
Value: Customer relations
Offer: Quality products and services
Perform: True counseling to customer Acquire: Constant improvement in knowledge
| | |
| --- | --- |
| People Query | Answer |
| non woven fabric wholesale in delhi | Favourite Fab Provide Whole Sale Rate For Delhi, Ncr Customer |
| non woven fabric manufacturer in panipat | Yes There Is Some manufacturer That Takes material From Favourite Fab |
| non woven fabric wholesale market in delhi | For Price Of Whole Sale You Can Contact Us |
| non woven fabric manufacturer in noida | Yes We have Our End Product manufacturer Of Non woven |
| non woven fabric manufacturer india | Favourite Fab Is All India Non woven fabric manufacturere |
| non woven fabric manufacturer in delhi ncr | Yes We have Our End Product manufacturer Of Non woven in the Ncr Delhi Region |
| non woven fabric manufacturer in bhiwani | Favourite Fab Have Network to Provide Material To Bhiwani Customer |
| 20 gsm non woven fabric roll price | 122-170/- |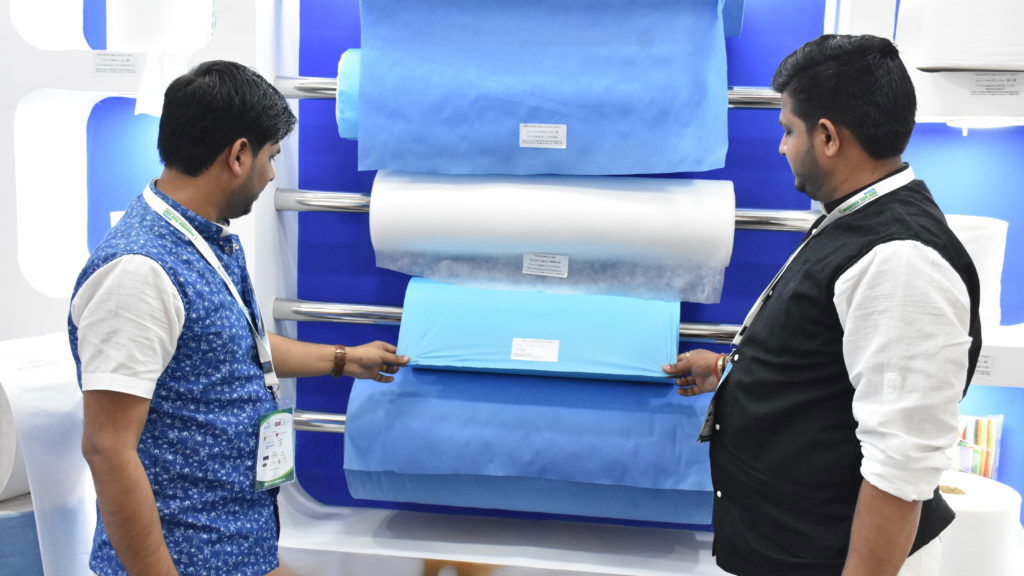 Get Free Sample Kit Of Our Fabric At Your Door Step
Online Order
Door Delivery
1-Click Quotation
We are such kind of manufacturer those are engaged in manufacturing top-grade fabric for fulfilling the requirement of our clientage.
New Delhi is the capital city of India, which has the potential to supply tons of nonwoven cloth to fulfil the demand of the market. The marketing of nonwovens in India is pledging in the Healthcare Industry as it has replaced most one-time-use disposable polyethene products, also it is improving the agriculture crop growth, automobile and home textile industry.
The strength of Indian nonwoven fabric manufacturers is described below:-
India is the biggest manufacturer of man-made and natural fibres.
Growth of Population and middle-class income
Lower-cost skilled labour
Growing Domestic Retail Market
Favourite Fab, Non Woven Fabric Manufacturer Delhi is cool about working to provide you with world-class service.
A dime a dozen, purchasing the fabric at the best Non Woven Fabric Price, is important as the market is becoming competitive day by day.
Favourite Fab, a subsidiary of Favourite Fruit Preservation Private Limited, has a wide range of quality fabrics which suit your requirement.
Our clients see eye to eye due to the satisfactory quality at a reasonable price.
Mr Naryan Das Sharma from Rajouri Garden started a small unit to manufacture the carry bags, he got the samples of fabric, and we sold them at a good 70 Gsm Non Woven Fabric Price, he got fruitful results, when his bags were accepted in the market.
Our nonwoven material for carrying bags has the following advantages:-
Strong bonded, lightweight
Available in a variety of GSMs, roll sizes
Available in various colours
Durable, fine pattern
Available in various qualities
Get a Good Non Woven Fabric Price Per Kg
You may pick up your phone & may dial +91-8800775462 directly to take the Nonwoven Fabric Price from Favourite Fab.
Get Non Woven Cloth Price
The nonwoven fabric especially the pp nonwoven, seems like a cloth, thus people also call it nonwoven cloth.
The nonwoven cloth comes in contact with most people when they found it at the cloth and grocery shops, at the first time, some people do not believe that it is not a cloth like others.
The owners of the store are most interested in Non Woven Bag Fabric Price.
The non woven sheet is a common name for a group of all sheets which falls under "non woven fabric".
In non woven fabric, spunlaced, metlblown, spunbond, needle punch, air laid nonwoven comes, this classification is because of the manufacturing method involved in the process.
The PP nonwoven is generally known as PP spunbond or PP spunbonded fabric because it is made with spunbond technology.
The nonwoven usage is about 60% in making disposable products, thus having surplus income & hygienic awareness are the key factors that affect sell of nonwoven.
The Non Woven Fabric Rate may fall or up from time to time but the awareness of the people may hike its sale.
Favourite Fab provides dedicated blogs on Sanitary napkins raw material & diaper raw materials, face mask raw materials as well as gowns, and PPE kit raw materials which are available at the reasonable Non Woven Price.
Some of the clients want to purchase see Non Woven Fabric Roll Price List, because sometimes, purchasing a roll is better before moving towards bulk purchasing.
Favourite Fab recommends you have some pieces of sample from Non Woven Rolls, on which you may perform the testing, making a sample product. This method would be convenient for you as well as us, instead of taking Nonwoven Fabric Roll.
Some time is most waiting when you ask for a specified roll and it is not in stock, so you may have to wait for the running of bulk quantity over our machine to produce your specific colour.
You may take the Non Woven Fabric Price In India just by vising our website www.favouritehub.com or messaging us on whatsapp at +91-8800775462.
The wholesale price is required by some of our customers, which comes with more discount. If you are going to purchase 4 tons, we recommend you purchase 5 tons as it would give you a better rate.
Some customers from the internilining industry & agriculture sector are keen to know the nonwoven cloth price per meter. You may have an idea from the following example:-
| | | | | | |
| --- | --- | --- | --- | --- | --- |
| GSM | Roll Length | Roll Size (in cm) | Roll Weight (Kg) | Price Per Kg | Price Per Meter |
| 60 | 4000 Meters | 100 | 240 | 100 | 6 |
If you want to know about the specific calculation of your Per meter Non Woven Raw Material Price, you may contact us
As per said "A dime a Dozen", Favourite Fab provides material to its customers at Good Price And Quality Non Woven Fabric.
Please have a look at the some of areas of Dehli NCR where we supplied the samples:-
| | |
| --- | --- |
| Name of Place | Material Supplied |
| Sadar Bazaar, Delhi 110006 | 60 gsm nonwoven |
| Paharganj, Delhi, 110055 | 25 gsm fabric |
| Kamla Nagar, Delhi, 110007 | PP+PE Fabric |
| Govindpuri, New Delhi, Delhi 110019 | SMS fabric |
| Mubarakpur Dabas, Delhi, 110086 | SMS Spunmelt Fabric |
| Jhandewalan, New Delhi, Delhi 110055 | Non Woven Bag Raw Material |
| Uttam Nagar, 110059 | 60 gsm nonwoven |
| Bawana, New Delhi, Delhi 110039 | Drape Raw Material |
| Alipur Village, New Delhi, Delhi 110055 | Bouffant Cap Raw Material |
| Rajouri Garden, 110027 | Face Mask Raw Material |
| Wazirpur, Delhi, 110034 | Laminated Fabric |
You may get the Nonwoven Fabrics Market Price with just a call, please call on +91-8800775462.
There are a few Nonwoven Fabric Suppliers, who are purchasing the fabric from Favourite Fab. New Delhi is just 2 to 3 hours' distance away from Agra, you may take the samples & rate from any Non Woven Fabric Supplier and may also compare it with Favourite Fab's samples & price.
Things to be noted while purchasing nonwoven fabric:-
Fabric Price
Desirable Quality Availability
Freight cost till your location
Service of the manufacturer
Being, one of the leading Non Woven Fabric Suppliers and manufacturers, Favourite Fab, is always there around the clock to supply you with top-grade material at your doorstep.
Desired GSMs & colour choices
Made from top-grade PP granules
Hygienic, High filteration
Untouched Production
Our material passed specific ASTM levels, and grabbed ISO, and CE certifications, we have got famous as one of the Non Woven Polypropylene Fabric Suppliers, that provide the desired quality fabric.
The manufacturer of nonwoven fabric owns two lines of nonwoven machine which runs day and night, we are having one line of SS fabric & one line of SSS fabric.
The manufacturing process starts with pouring the Rliance PP granules, which are further processed and fibres are formed, these fibers are laid down & bonded to form a sheet. The colored fabric is also can be manufactured by Non Woven Fabric Manufacturer.
We run many colours over our machine for our customers, and we also send the update that which colour is running online. Some examples of the colors which run generally is as follows:-
What is Nonwoven Fabrics Market Share?
The Nonwoven Fabrics Market Size at the global level is predicted to be 53.5 Billion US Dollars by MarketsandMarkets.
Non Woven Fabric Market Size Globally
Year
Value
2020
40.5 billion US $
2025
53.5 billion US $
Source
MarketsandMarket
CAGR
5.73%
The sustainable development of the Non Woven Industry indicates its bright future.
Favourite Fab has superior Non-Woven Cloths. We always keep open houses for those who want to start the non woven industry business like bags, and PPE kit manufacturing.
In short, we may say that we support the new business all time, respecting the current business. We invite the manufacturers to visit us at Runakata to have a detailed discussion regarding your business shortcomings, desires, and market scenario.
We also promote our "Become our Partner" programme for some Non Woven Cloth Suppliers, you may inquire us for more details regarding the same.
All gamut of Non Woven Cloth, Favourite Fab manufactures the fabric as per European and ISO standards as updated from time to time, using high-quality thermoplastic PP polymers.
We are such Non Woven Cloth Manufacturer, having highly experienced operators in our staff who are mind full personalities and our heroes, who operate our machines and bring out the finest and desired quality Non Woven Cloth Material.
Nonwoven fabric has benefitted many industries and sectors such as packaging, health & hygiene, automobile, home textile, furniture, and agriculture, etc.
By using the Bag making Non Woven Fabric Rolls, the D cut, W cut, box bags, and U cut bags are producers.
Automobile Non Woven Fabric Manufacturers
Using thicker and stronger GSMs fabric, the seat covers, vehicle covers, and accessory covers are formed.
We provide durable, strong, UV-treated nonwoven with 2 seasons warranty in 17, 20, 23, and 25 GSMs for making crop covers, fruit covers & shed nets, etc.
The Non Woven Fabric with the finest PP percentage, good filtration, and hygiene ness being used in making medical-grade products.
The examples of fabrics involved are SMS, SMMS, SSMMS, Spunbond, Breathable, Laminated, etc.
We ran riot for our clients, supplying them with export-featured fabric at a reasonable cost. We go down to business finding all the ways which can help provide international level service to our clients being Non Woven Fabric Manufacturer In India.
You may contact us, regarding all inquiries related to the nonwoven fabric. We have served more than 15 thousand customers and sold 4,536 tons of material per year.
We developed the ordering system and service chain as per the need of the customers, and we also update it from time to time.
Quickest Response in the market.
Proforma Invoice within 30 minutes
Free of Cost Samples
Customisable Quality Fabric
High-grade PP granules used
Live PP price update & colour update mail
It is said "No need of evidence for the truth", you may inquire at Favourite Fab and may get the best quote, samples, and service. We are a dedicated Non Woven Fabric Manufacturer Near New Delhi, Delhi.
Park Nonwoven Private Limited
People who want to do business with Park Non Woven Panipat may inquire on our portal to get a quote first. The Favourite Fab has high experience in the market than Park Non Woven Private Limited. The customisable quality & understanding of the customer desire is much noticed than Park Non Woven Pvt Ltd.
The Park Non Woven price can also be compared with us to find out to whom you would select Park Nonwoven or Favourite Fab.
Nowotek Textiles Private Limited
Many manufacturers are giving service to manufacturers of the fabric. It is on you to find a suitable Nonwoven Company, which may fulfil your requirement.
We have served a lot of customers counting more than 15,437 & have a turnover of more than 15.3 Million USD. Favourite Fab has served clients all across India, from Jammu & Kashmir to Kerala and Gujarat to Nagaland. We proudly say to join us and explore the best suitable Spunbond Non Woven Fabric Manufacturer, for you.
We have different types of nonwoven cloths, we yearly organise the world-level exhibition of Non Woven Fabric Manufacturers
Which is held at Pragati Maidan, New Delhi. In the 8th nonwoven tech Asia, more than 1000 customers visited us, and 1200+ samples were distributed, Favourite Fab has taken one of the highest orders taken by Non Woven Manufacturer, which is 337 tons.
We also got 121 Export inquiries from South Korea, Japan, Nepal, Sri Lanka, Bhutan, Bangladesh, etc.
In the 7th nonwoven tech asia of Nonwoven Fabric Manufacturers, around 10,500 customers visited our booth. The 7th exhibition was organised after a long period of 2 years.
Favourite Fab was the youngest Pp Non Woven Fabric Manufacturer. The explanation made by our CEO Mr Gaurav Garg and COO & CFO Mr Sourav Garg, satisfied the customers.
You are gladly invited to the upcoming exhibition & nonwoven conference where participation is ensured by our Non Woven Company, for more details you may call on our no. +91-8800775462.
FAQs
Which Is The Biggest Non Woven Fabric Manufacturer In India?
Which Is The Biggest Non-Woven Fabric Manufacturer In India?
Having a customer network of 15 thousand customers from Jammu & Kashmir to Kerala, Gujarat to Nagaland, serving more than 45 countries, and manufacturing 4,536 tons per year, Favourite Fab is the biggest non woven fabric manufacturer in India.
Which Company Manufactures Non Woven Pp Fabric In India? Or Which Company Manufactures Non-Woven Pp Fabric In India?
Favourite Fab manufacturers the non woven PP fabric in India with the following features:-
Untouched Manufacturing
State-of-the-art Manufacturing
Stronger fabric with a fine pattern
Export quality manufactured with High PP granules
Hygienic, soft, durable
The desirable quality for the customer
Which Country Is The Biggest Producer Of Non Woven Textiles?
Currently, China is the biggest producer of nonwoven textiles. India is a leading producer in the industry.
Which Is The Best Nonwoven Fabric?
Having properties like strong fibres, recyclability, filtration, and cheapness Spunbond nonwoven fabric is the best nonwoven fabric.
How Do You Manufacture Non Woven Fabrics? Or
How Do You Manufacture Non-Woven Fabrics?
The PP nonwoven fabric production may be done in the below easy steps:-
Positioning PP chips & melting
Filamentation by spinning & stretching
Spreading of filaments to form a web-like sheet
Thermal bonding of filaments & embossment
What Is The Price Of Nonwoven Material?
The price of nonwoven material is 85 Rupees per Kg EXW at Favourite Fab. You may get the best price quote in less than 30 minutes.
Is Non Woven Fabric Expensive?
No, Cheaperness is one of the important properties of non woven fabric, which is also the reason for its use in the Medical, agriculture and Packaging industries.
What Are 2 Types Of Non-Woven Fabrics?
The 2 types of non-woven fabrics are given below:-
How Do You Calculate The Weight Of Non Woven Fabric?
The weight or GSM of nonwoven fabric is calculated with GSM calculating machine or you may cut one square meter piece & weigh it directly.
What Is The Demand For Non-Woven Fabric?
The demand for non-woven fabric is increasing year by year, according to a report published by MarketandMarkets, the global nonwoven fabric market size is predicted to grow from $ 40.5 Billion to $ 53.5 Billion from 2020 to 2025.
Is Non-Woven Fabric Expensive?
No, the non-woven fabric is cheaper, recyclable, and easier to use. Due to being cheaper, the fabric is being used in disposable items like surgical gowns, face masks, carry bags, shoe covers, bouffant caps, sanitary napkins, diapers, etc.
How Is The Market For Non-Woven Bags?
The market for non-woven bags is full of opportunity, as due to the government's strict actions on polyethylene bags & environmental concerns, the demand for non-woven bags is increasing from time to time.
If you are thinking to start non-woven bag business, you may have a look at our dedicated blog.