To give our customers the highest-quality Tri Laminated non woven fabric at the lowest prices, we at Favourite Fab work hard; We are the most important supplier for different non woven breathable filter fabrics used in industrial, sanitary, and medical applications.
We are ideally situated to serve Asian markets. Converters are the main recipients of industrial wipes, wet wipes, baby wipes, medical wipes, surgical gowns, micro-porous fabric, and other non woven roll fabrics.
As requested by the customer, Favourite Fab Fabric can offer a wide variety of Specialized Laminate Fabrics. The use and functionality of non woven fabrics are improved by this lamination facility, which makes it special. We mix non woven with several kinds of specialty film and other additives to provide the best product.
Numerous applications for our breathable non woven fabric, also known as tri laminated non woven fabric, include the following:
diapers or nappies for babies
Hygiene for women
adult incontinence goods are a type of incontinence product that is used
wiping cloths
wound dressings and bandages
Towels for the bath and face are disposable
Gowns for isolation
Gowns for surgery
Drapes and coverings for surgery
Scrubs for surgeons
Porosity allows for gas sterilization in medical packaging.
COVERALLS, PPE KIT
The laminated non woven fabric is a very significant type of fabric in the non woven fabric category. It is crucial due to the many ways in which it is used in daily life. Be it the production of bags or protective everyday clothing, the waterproofing of roofs, buildings, sheds, etc.
We are pleased to report that some big clients from the USA, Brazil and the UK chose Favourite Fab fabric due to its quick response time, polite behavior, high material quality, and affordable price.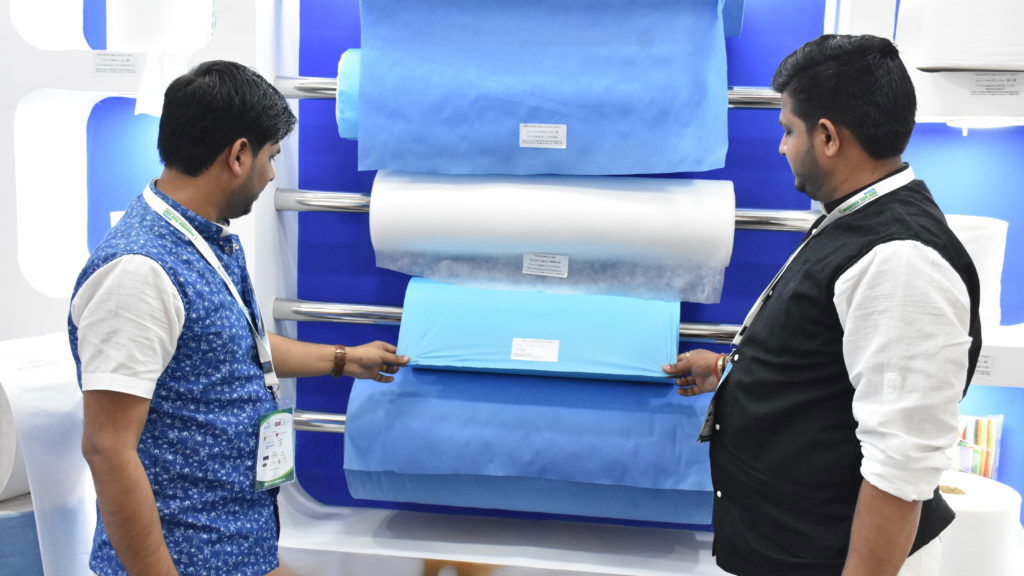 Get Free Sample Kit Of Our Fabric At Your Door Step
Online Order
Door Delivery
1-Click Quotation
| | |
| --- | --- |
| Name | 30+20 gsm Non Woven Fabric Roll Price |
| Composition | Polypropylene (PP) |
| Weight | 40-50 KG Or More |
| Width | 63" |
| Colour | White, Beige, Yellow, Ivory Or As Required |
| Pattern | Plain |
| Certificate | ISO, CE, NITRA |
| MOQ | 1000 kg |
We became one of the top fabric manufacturers in India due to these factors. Being the Leading Laminated non woven Fabric Manufacturer In India, we intend to become a recognized manufacturer on a global scale as well.
Non woven fabric in Ecuador and non woven fabric manufacturers in Himachal Pradesh can be used to find our company online.
On the website for Favourite Fab, you may get a PDF of the SMS non woven fabric manufacturing process. There is a significant demand for flow charts of the non woven fabric manufacturing process on the internet.
As a result, we started a brand-new blog solely focused on SMS fabric and non woven goods.
Below is our specifications table:
| | |
| --- | --- |
| Brand | Favourite Fab (Non Woven Fabric in Hindi) |
| GSM |   8 to 150 |
| Material | Export Quality Non Woven Fabric in Dubai |
| Composition | 100 % Polypropylene (PP) |
| Usage/Application | In Medical, Bag, Mattress, Interlining Industry |
| Features | Good Fabric, High Tearless, Fine Pattern  |
| Packaging Size | ROLLS |
| Price |  100 rupees |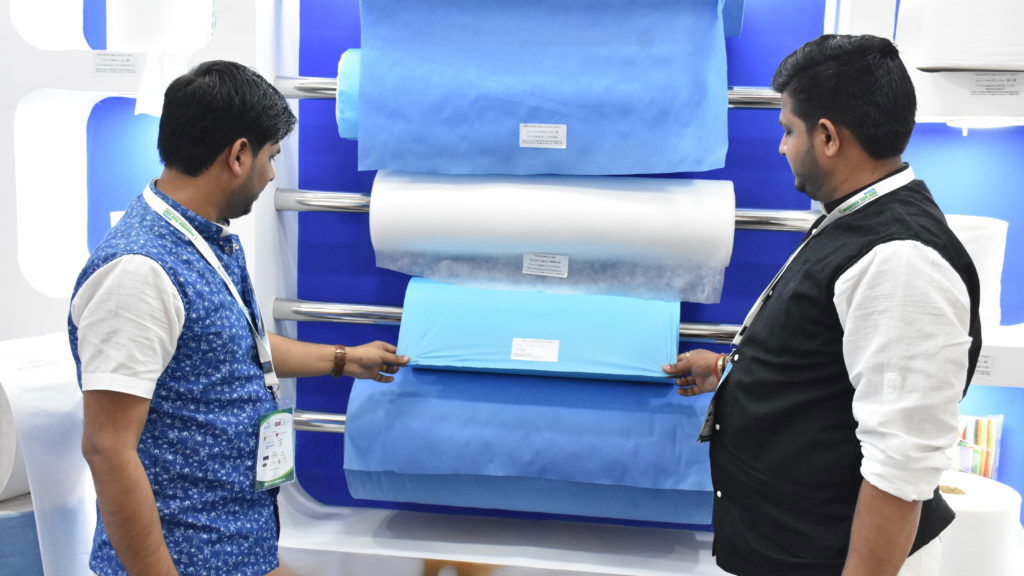 Get Free Sample Kit Of Our Fabric At Your Door Step
Online Order
Door Delivery
1-Click Quotation
As a non woven fabric manufacturer and supplier in Malaysia, Favourite Fab has satisfied customers who have bought our laminated non woven fabric and hydrophilic non woven fabric. Because of this, we are non woven fabric producers in Germany and the USA.
The term "non woven cloth" refers to the entire piece of fabric. The Hindi word for non woven cloth is (gair buna hua kapda), which translates to "non woven," By bonding, interlocking, or combining the two processes.
The laminated non woven fabric has excellent liquid protection and is water resistant.
non woven laminated fabric refers to non woven fabric that has been laminated with PE (polyethylene) film. Fabric can be laminated using either the heating process or an adhesive-based approach. Laminated non woven fabric is highly useful in:
Packaging Industry
Agri Tarpaulin & crop protection
As Insulator, in-home use
Gowns, coveralls
Scrub Suiting
Favourite Fab is a leading PP non woven fabric manufacturer in Delhi NCR, providing reasonable prices and prompt shipping nationwide. We are renowned for producing high-quality PP non woven fabrics in Chennai at costs that even small businesses can afford.
To enhance fabric performance, PP non woven fabric makers in India have enthusiastically embraced non woven textiles. Due to its involvement in the export of agricultural non woven fabric, Favourite Fab has a presence worldwide.
Our main goal in making and exporting non woven fabric and various products made from it is to satisfy our customers. The company is well-established in both home and foreign markets.
Doctors and colleagues in the operating room wear surgical gowns as protective clothing to stop the spread of bacteria from patients to the surgical team and, as a result, to reduce the risk of hospital-acquired illnesses.
Therefore, surgical gowns have a dual purpose: they guard against the transfer of germs and bodily fluids from the patient to the operating room and from the operating room to the patient. For effective prevention, they were created with tri-layered non woven fabric as the base material.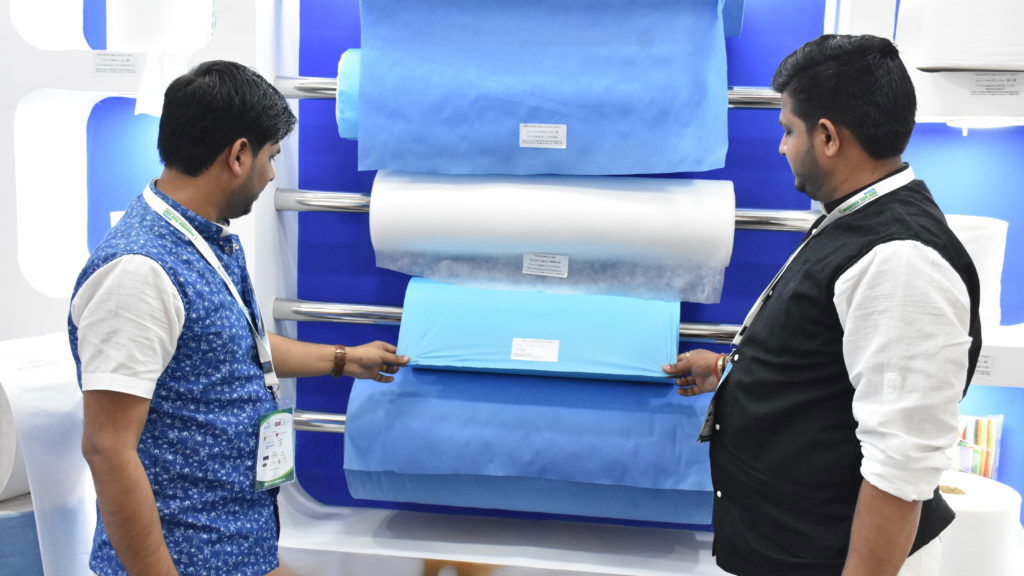 Get Free Sample Kit Of Our Fabric At Your Door Step
Online Order
Door Delivery
1-Click Quotation
A non woven fabric is the main component of surgical gowns. A non woven polypropylene fabric with a surface area of 30 g/m2 serves as the outer layer.
The surgical gown's outer layer is consequently made of polypropylene. Polyester's moisture regains of 0.4 percent helps sweat absorption when used for extended periods. Methylene blue further generates singlet oxygen, and titanium dioxide nanoparticles function as photocatalysts.
Our non woven breathable filter fabric provides great breathability, a high stitching strength, and is extremely comfortable to wear.
This medical-grade breathable fabric has received approval from Favourite Fab lab, which attests to its impermeability to blood and other biological fluids.
This cloth is indeed breathable since it has a high WVTR value compared to the human body's needs.
It is simple to stitch and wear for a long time because of the softness and flexibility of this laminated fabric.
In the event of infectious or contagious situations outside, it is intended to be used just once.
Because of our customers, we are the biggest. We became the biggest in the business because of the commitment of our sales executives, the drive of our managing director, our team's camaraderie, and our clients' loyalty.
We are India's leading maker of non woven fabric due to the above critaria. Our clientele is expanding every day. We offer competitive prices for the convenience of our clients.
One of the top non woven businesses in India is us. It is the fruit of our constant dedication to our work and customers. If you search for us as a Maharashtra-based manufacturer of non woven fabrics, you will find our name on the first page. Please visit the page, select "contact us," and you will shortly be given access to our sales team's contact details.