A Dime a dozen, Favourite Fab provides you with export-quality fabric at a competitive price. Just Visit us today for a Strong Business Relationship.
Favourite Fab provides you with all-grade spun bond and spunlaced fabrics. Our Spunlace fabric manufacturing machine ranges from 800 to 4800 millimetres, we can make any blend of spunlace fabric from 30 to 80 gsm.
On the other hand, when we talk about spunbond fabric, we are enriched with cosmopolitan standards, state of the art technology of manufacturing fabric. We have spunbond technology of a SS beam of 1.6 metres and an SSS beam of 3.2 metres.
There are several manufacturers of spunbond spunmelt fabric in India, those are serving the non woven industry. Favourite Fab provides superior quality fabric which is customer friendly knocking it out of the park.
We always push the envelope to provide global-level fabrication of special fabric to our clients.
The state of Himachal Pradesh keeps enormous strength to give a boom to the economy of India. Investment in the field of nonwoven industry makes the merry-go. It enhances people to use more economical and environmentally friendly fabric.
Favourite Fab feels proud to serve the nation while manufacturing first-class fabrics.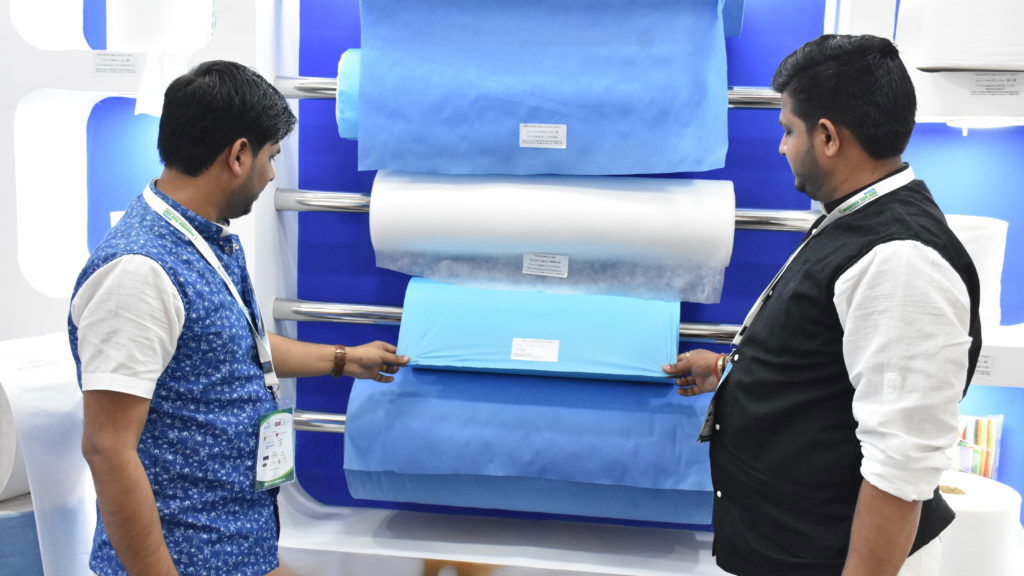 Get Free Sample Kit Of Our Fabric At Your Door Step
Online Order
Door Delivery
1-Click Quotation
We are leading in supplying the non woven cloth throughout Solan, Himachal Pradesh and India. We made such a wonderful process which makes the ordering of non woven fabric so much easier. NITRA, ISO, FDA shout-out to Favourite Fab.
A surgical face mask raw material has the work to protect health industry workers, and patients. The face mask is used to be worn for a long period thus the non woven which is used in the face mask must be softer to the skin. The fabric which is used in manufacturing the face mask is best if purchased in bulk because of the following benefits:-
Lesser transportation charges
Better Discounted Price
Time Purchase of bulk material
Favourite Fab offers a broad range of fabrics which can be used in producing civilian face masks. Our fabrics are manufactured based on the research performed by international-level agencies such as ISO, and FDA. Our Materials are skin-friendly, irritant-free, and non-allergic keeps protecting the wearer while the projections of saliva.
You may get the price of Long-performing filtering spunbond Non Woven Fabric Price which starts from 95 Rupees onwards.
Our fabric is having following properties:-
Good breathability
Bio-friendliness
Irritant Free
Non -Allergic
As Soft as a feather
Low Price Non Woven Fabric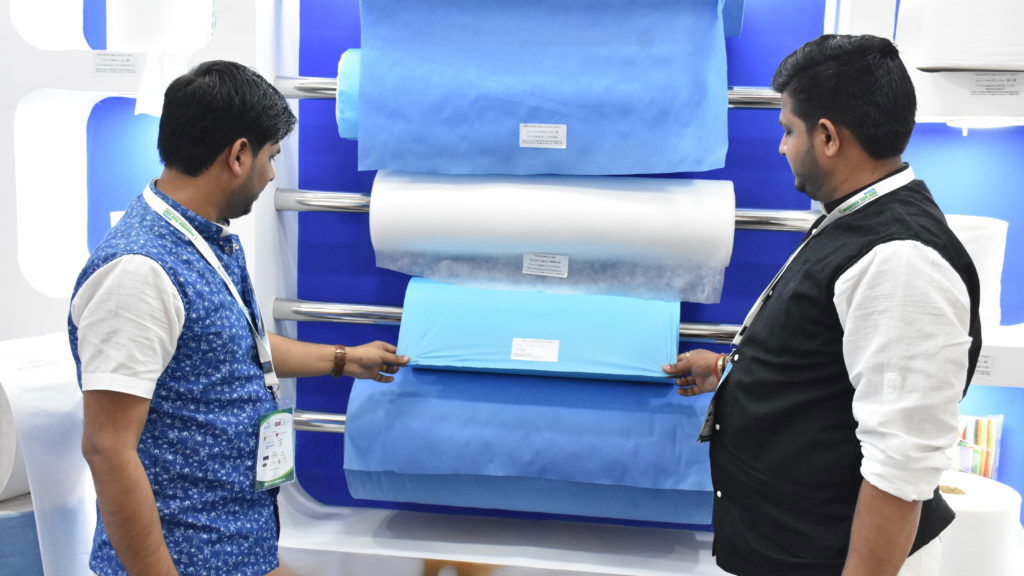 Get Free Sample Kit Of Our Fabric At Your Door Step
Online Order
Door Delivery
1-Click Quotation
The latest technology and experienced hands made our fabric the superior one. Favourite Fab is happy to have a wide network of customers from Kashmir to Kerala and Gujarat to Nagaland. All make hand-to-hand due to
Our customer assisting team,
best satisfactory price,
superior export quality fabric.
If you are in search of Non woven Fabric In Solan, you are in the correct place. You must compare the no-cost sample kit to ours. Our export department and CEO Mr. Gaurav Garg go all out for our export clients.
The government of India tax 12 p% on non-woven fabric having HSN code 560312.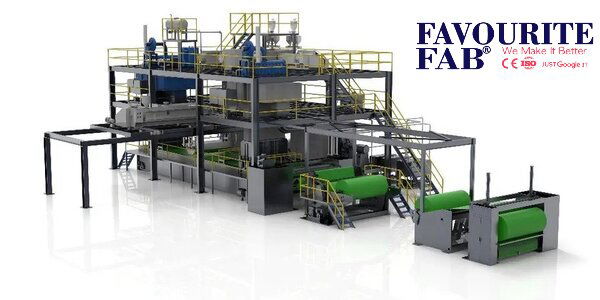 The Non Woven Fabric Wholesaler In Solan progressing by leaps and bounds to fulfil the gap between demand and supply of fabrics. We manufacture a sustainable fabric which is being used to make the lives of human beings easier.
The medical grade non woven fabric is applied to manufacturer coveralls, surgical wearings, bouffant caps, bed sheets and other medical-grade clothing products. These offers the following anti-microorganism properties which keeps the India and World safer:-
Hydrophobicity
Breathability
Anti-fungal
Non-allergic
Irritation Free
Suffocation Free
These are properties which are exercised by Favourite Fab, Non Woven Fabric Supplier that pushes the envelope to produce desired fabric.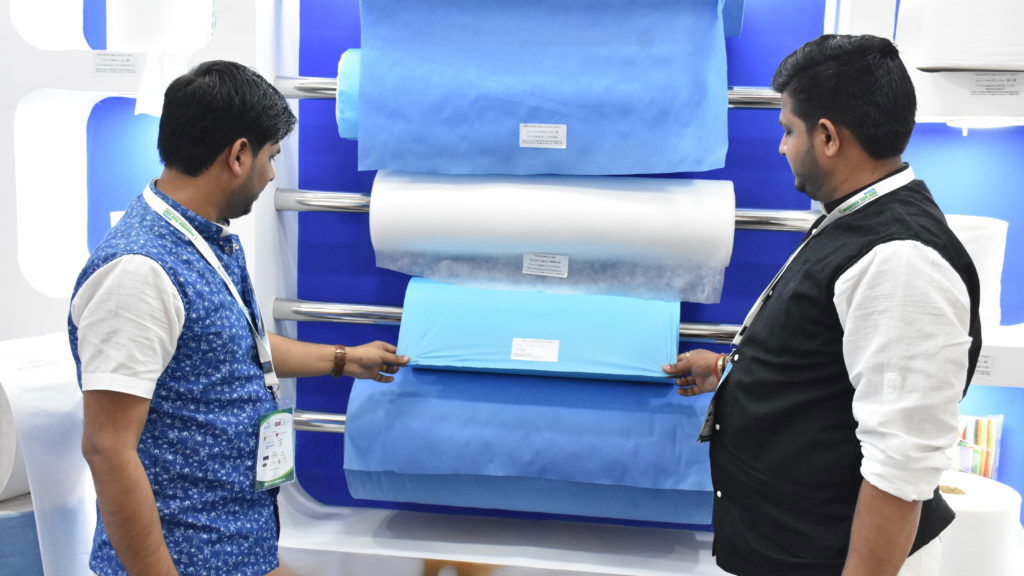 Get Free Sample Kit Of Our Fabric At Your Door Step
Online Order
Door Delivery
1-Click Quotation
Following is a table and graph giving us information regarding how much quantity is sold in various places of Solan, Himachal Pradesh.
| | |
| --- | --- |
| Solan Places | Quantity Sold in Quintal |
| Non Woven Fabric Panchkula | 24 |
| Hpsidc Industrial Area | 36 |
| Near Nalagarh Palace | 12 |
| Near Chail | 38 |
| Near Menri Monastery | 69 |
| Opposite Solan Brewery | 24 |
| In Front Of Kufri | 37 |
We also keep in our mind to give you the fabric at Best Rate as Cheap Non Woven Fabric and Best one.
Let us Hit the Nail on the Head, we sell material in roll forms, the standard roll size is 63 inches. Our rolls are finely packed untouched and kept in a hygienic environment. The role gsm ranges from 8 to 120 generally.
Favourite Fab made it and polypropylene using viscose polyester possible to knock it out of the park. The spunbond or spunlace is a man-made fabric which is manufactured using viscose, polyester or polypropylene fibers o assure the quality of the fabric, you may check the GSM of the same, using our method "How to check GSM of the fabric?"
Favourite Fab wishes to believe there are fewer people that are aware of spunbond fabric attributes, thus for spread awareness in the industry we dedicatedly publish a table of specifications which is helpful for our clients to get an eagle's view over non woven.
| | |
| --- | --- |
| Name | Non Woven Cloth |
| Composition | Polypropylene (PP) |
| Weight of A Roll | 40-80 KG or As Per Order |
| Width of A Roll | 63" & All sizes |
| Colour | Black, Ivory, Red, M. Blue Or As Per Order |
| Pattern | Plain |
| Certificates | ISO, GMP, FDA, NITRA, CE |
| MOQ | 1000 kg (1 Ton) |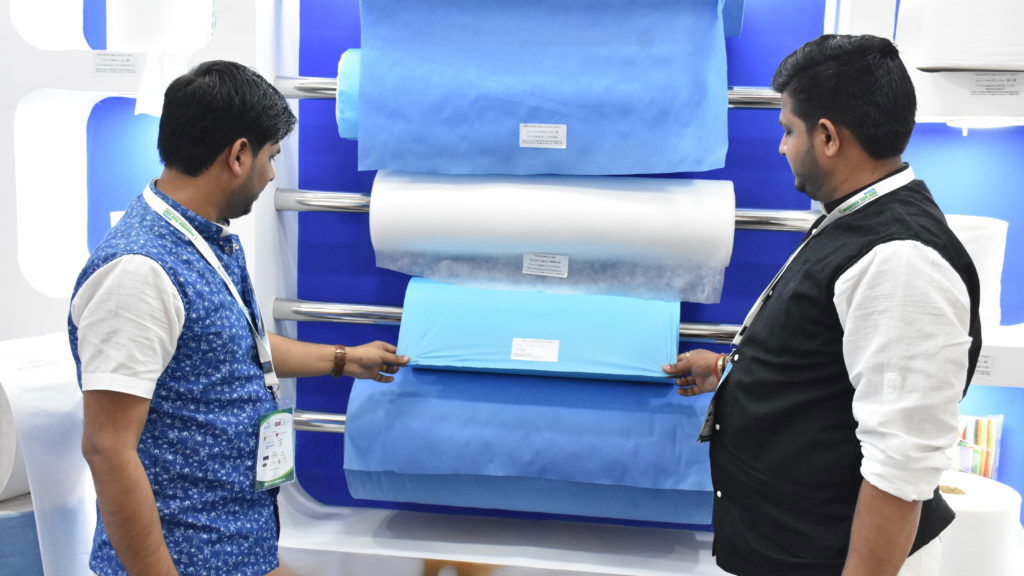 Get Free Sample Kit Of Our Fabric At Your Door Step
Online Order
Door Delivery
1-Click Quotation
| | |
| --- | --- |
| Brand | Favourite Fab |
| GSM | 40 gsm or As Per Order |
| Material | Non Woven Fabric |
| Composition | Polypropylene (PP) |
| Usage/Application | In Medical, Bag, Agriculture, Mattress Industry |
| Features | Strong FibresFine PatternDurableManufactured Untouched |
| Packaging | In ROLLS, wrapped with Shrink + Raffia |
| Price | 90 Rupees Per KG |
Smithers, headquartered in the USA, dedicatedly provides data, reports, and testing in various industries for around 100 years for eight major areas.
This latest report informs us about the growth of airlaid nonwoven within the period of 2017 and 2027. The numerical breakdown of consumption of non-woven cloth is also described while taking various variants, applications, and states into consideration.
The Data is fabricated in an infographic for the convenience of the viewer. Please mail us at sale@favouritehub.com for more information regarding the same data and non woven fabric inquiry.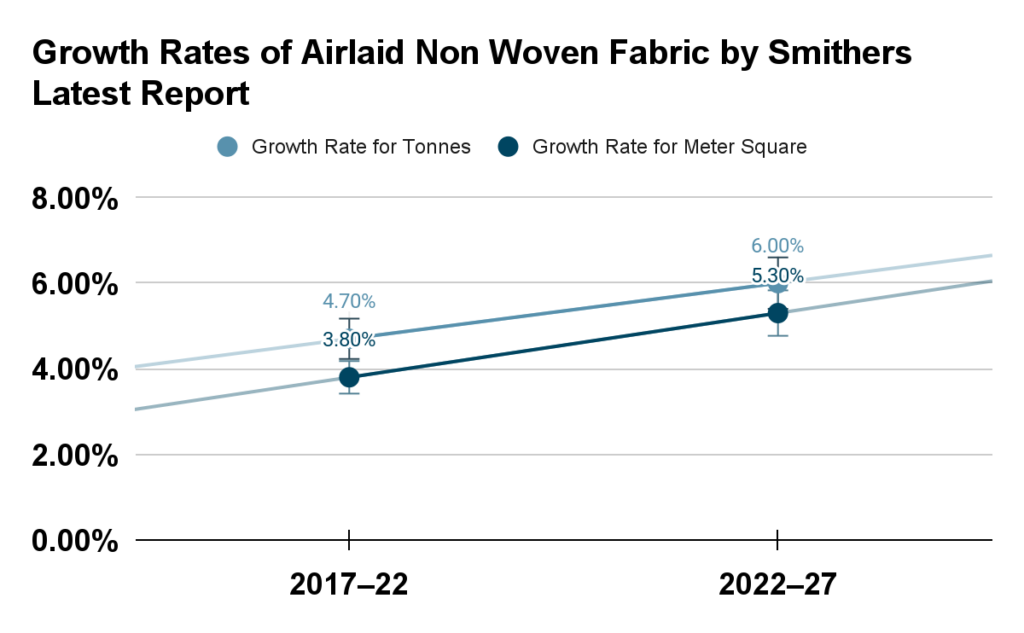 Growth of Airlaid Non Woven As per Smithers Latest Report
Years
Tonnes (Growth Rate)
Meter Square (Growth Rate)
2017–22
4.70%
3.80%
2022–27
6.00%
5.30%
The consumption of airlaid fabric is 574,800,000 Kilograms or 7.5 Billion metre square which has an estimated value of two billion US dollars.
4.7 and 3.80 % was the growth rate for tonnes and metre square respectively for the time 2017 to 2022.
It is estimated that the growth rate for tonnes and metre squares would be 6 and 5.3% from 2022 to 2027.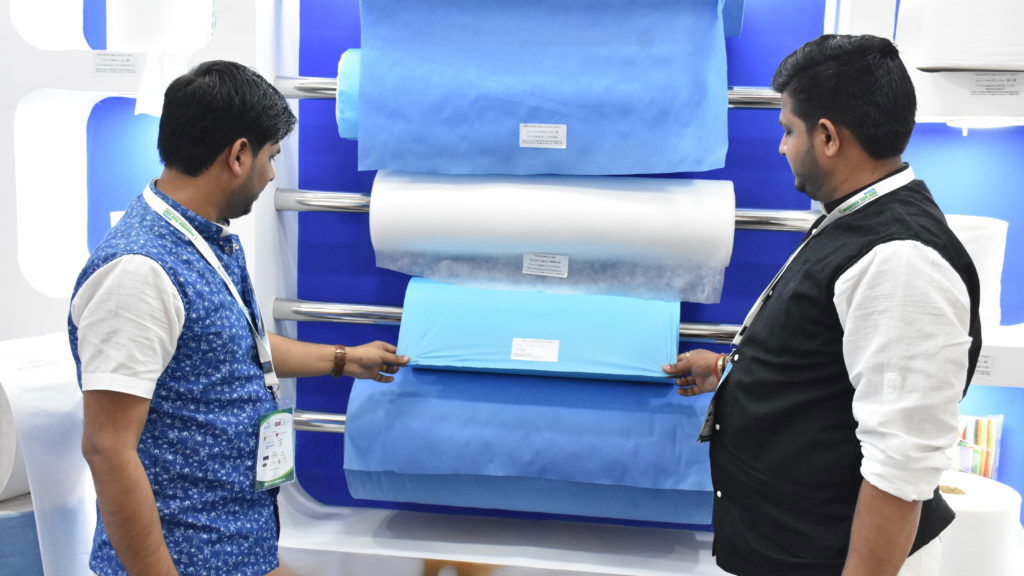 Get Free Sample Kit Of Our Fabric At Your Door Step
Online Order
Door Delivery
1-Click Quotation
FAQs
Who is a Non Woven Fabric Manufacturer Near Me?
You may find Favourite Fab as an option if you are looking for a good fabric at the best price.
Most people in non woven industry depend upon the reports and best practices of some industry leaders, Favourite Fab is one of them. Our team does deep research to understand the analytics of spunbond fabric demand in the market. This happened due to the manoeuvre and synchronisation of our team.
How can I contact Bag Non Woven Fabric Manufacturer In Solan?
The bag fabric manufacturers produce rolls of 40, 46, 32 inches etc. as per the sizes of d-cut and w-cut machines as well as stitching machines. The bag fabric must have the following features which we provided by us too:-
Good fiber strength
Long lastingness
Competitive Price
Lower Side Roll Wastage
I want contact details of Non Woven Fabric Suppliers In Solan?
You may contact us at +91 8800775462. We bring into play the select PP granules which are heated by our machine. Our machines are operated by 20 to 25 years of experienced hands, those who worship their machines as the machines are their primary livelihood.
The properties of fabric are manipulated as per the demand of the client. The science and research claims that the non woven fabric is the most sustainable material. A silver lining appeared as non-woven fabric when GOI banned polyethylene bags.